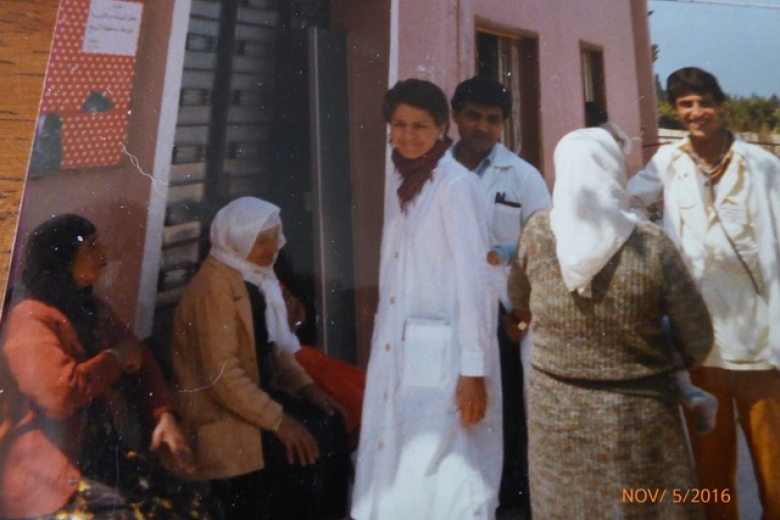 My name is Barbara Pizacani. I was seconded by AFSC to work in Lebanon with the Middle East Council of Churches after the Israeli Invasion of 1982.
Between 1985-1987, I was in Lebanon working with both Christian and Muslim communities affected by the war. At that time, I worked as a public health nurse doing projects in health education and maternal child health. I helped establish mother-baby health education groups with women from Ein el Helweh Camp (southeast of Sidon)
I also was involved in visiting people injured during the war. There were many wounded and paralyzed people, who had extensive nursing needs and were confined to their homes. This program reached patients all over the area.
As an AFSC representative I also coordinated with other organizations on a mobile clinic project, which provided primary health care to people living in villages around Sidon.
Later, I was stationed for a short while in Amman, Jordan, and helped with the coordination of sending urgently needed items from Amman to Iraq, during the U.S.-imposed sanctions. At that time, Iraq was an import-dependent economy, and when sanctions were imposed, the country was forced to become self-reliant in the agricultural sector. I helped in the coordination of purchasing, loading, and securing approval for seeds and fertilizers to cross the border from Jordan into Iraq.
I appreciate AFSC's approach toward peace making. I am so thankful that AFSC exists and that Quakers continue to keep their principles alive!
Barbara currently lives in Portland, Oregan and works in public health research and evaluation. She has one daughter.
More From AFSC's Century Of Action