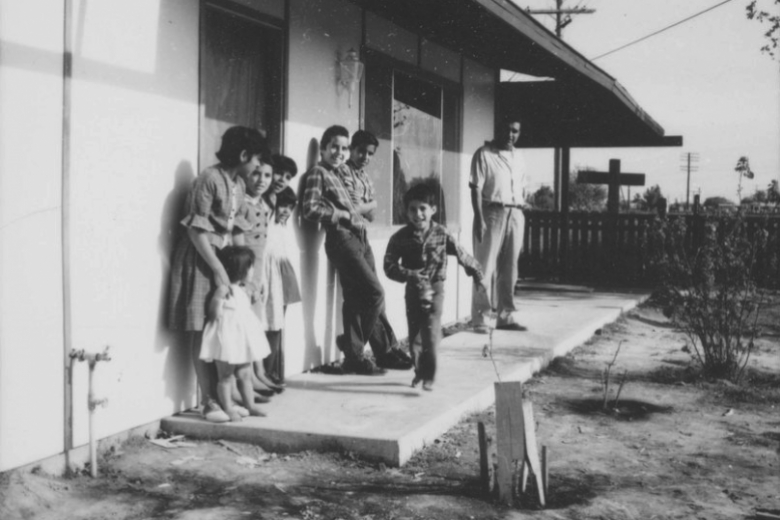 I had been working in self-help housing in Philadelphia when I met Howard Washburn at a conference in 1965. Howard was the director of Self-help housing in California at the time and he was hoping to get a grant from an Anti-poverty program. At the conference Howard asked me if I was interested in working in California. I told him to keep in touch, and let me know if they received the grant money. In the summer of 1966 Howard told me they secured the grant money and needed to expand their staff. He asked me to come out to California just to visit, and then see what I thought. When I did make it out there, I met with Caesar Chavez's brother, Richard, who was working on building houses for farm workers and supervising families. When I returned to Philadelphia I talked to my wife and family. We were settled in the area, our three kids were in school and we were involved with community activities, but eventually we decided we would head out there for two years and see how it went.
In August 1966 we packed our stuff and took an eleven-day trip out to California and stayed at the Washburn's house while they were away on vacation. One day shortly after we arrived Howard's mother (who lived next door) emerged from her house in tears. Howard and his family had been killed in an auto accident. Their oldest daughter, who was 16, had been driving and unfortunately there was a head on collision. The guy that I knew and who had hired me, and convinced me to come to California, was not living anymore.
After a few months I was chosen to be the director of the organization. The grant that had been secured was used to form Self Help Enterprises, before it had been operating under AFSC's name. The grant was secured in order to develop programs for five big counties in the central valley. The program was designed to provide small loans for farm workers, who were living in really lousy housing. Many of the farm workers did not speak English. Self Help Enterprises operated as an instructor and helped to start other programs, first in California then eventually throughout the US.
Recently there was a 50-year national celebration of the program's success. In 50 years, 50,000 homes across the US have been built. The Department of Agriculture in Washington was very supportive throughout the process. It is good to know that it had solid support from DC as well as at the local level. I retired from the program in 1989 after working as its director since 1966. Today the program has expanded considerably and also includes community development programs like improving water and sewer systems. It also includes multi-family housing and community facilities that have places for kids to play and buildings for healthcare, computers etc.
I feel privileged to have had this opportunity. My own experience with families was very touching. I found that the families were very excited and unbelievably happy to get their own home. When my mother was in her early teens she lived in Puerto Rico where she learned Spanish. She didn't speak Spanish again until she was in her 80's when she came to visit us in California where she met the farmers and their families. The kids were very amused and tickled. I feel very fortunate to have this experience and lucky to see the effects that it has had.