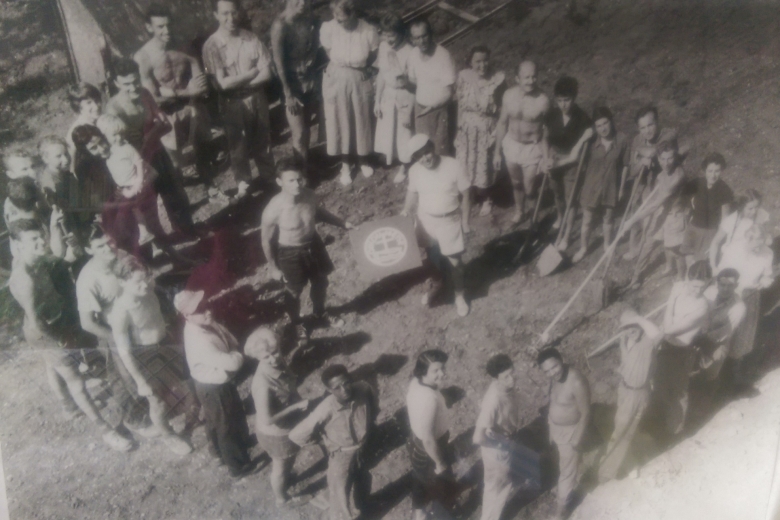 In the fall of 1942 the Work Camp Committee of the American Friends Service Committee became interested in the conditions of school houses in the mountain region of Kentucky. Between 1943 and 1945 over 100 young people participated in the program of schoolhouse reconditioning. In the first summer, the work focused on painting and improving the schools. This included the construction of privies for several of the schools. The camps at Hazel Green in 1944 and 1945 concentrated on the development of kitchen additions to one-room schoolhouses, expanding hot lunch programs. Schools in rural areas faced a unique problem in that there was rarely space for developing a kitchen and dining area, so serving a warm meal proved to be quite difficult.
Rev. Edward Martin Brown spent his lifetime working for peace and racial reconciliation. In 1944 he was the Director for the Hazel Green work camp and in his concluding report he wrote, "We were engaged in putting the finishing touches on the four kitchens and beginning to put into action our plans for demonstration lunches at each school. It was apparent that we needed to develop a closer acquaintance with the teachers because their active support was very necessary if the hot lunch program were to succeed at all. In the communities where they went door-to-door explaining the program we had the most success. We left finally on Wednesday morning. Tuesday afternoon a Daysboro teacher informed us that the meals were proving very satisfactory and that the average cost was 8 1/4¢. Such encouraging news made it easier for us to leave a community to which we had become so attached in these two short months."
According to Edward, actual work accomplished over the various years in the different communities earned the work campers and the American Friends Service Committee the right to be in these communities and released energies among the local residents of the communities for further self-help undertakings. The issue that the AFSC had identified finally got national attention and in 1946 President Harry S. Truman signed the National School Lunch Act.
More From AFSC's Century Of Action