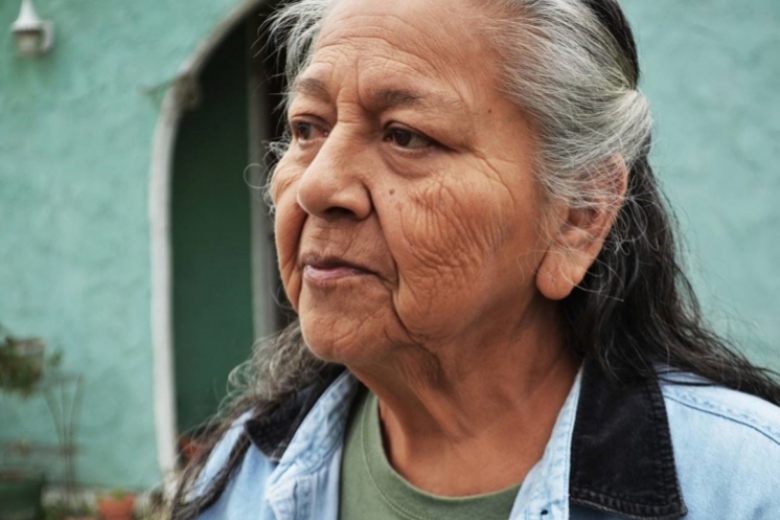 Abridged from Proyecto Campesino 60th Anniversary Story Telling Session
As told by Graciela Martinez
I'm Graciela Martinez, I am local here. My farmers were farmworkers. In fact my uncle is sitting there, who I considered more my father. I didn't like it at the time, but they would take me out to the fields to work when I was on vacation.
Eddie Cuellar was in on all of this, all the money and grants. He told my mom that there was a job opening, looking for a secretary. Told my mom that I should apply. I applied for the job and got it. It was to create Self-Help Enterprises (SHE). I was taken under the McAllisters' wings. It was done at the table that we still hold.
I was the one that was hired in November 1965. Now I sit on the board of SHE. I never fail to remind them that I was in the delivery room when SHE was created. It was very exciting times for me. The AFSC opened a lot of doors to me by hiring me. We went to Selma, AL, when all the civil rights movements were going on. The activism bug bit me. My job was over after Self Help Enterprises was created.
I left to work with the UFW. AFSC has always been important in my life. I also credit myself and all the 50+ years of work, I am the only woman coordinating. AFSC was wonderful, recognized movers and shakers. They saw it to its completion and set it free. SHE grew its own wings and is doing well.
. . . AFSC opened the door to go out into the community to work. In 1987 I ran my own business. I only got a high school education, but I went to the university of life. I had my own business for 10 years. One year I was having my coffee and my paper opened, ad jumped out right in front of me. I read the ad and I was confident that it was my job. I got the job as a program assistant. At that time Pablo Espinosa was the program coordinator. At that time, deep into civic participation for citizenship. Craig McGarvey did a great job bringing nonprofits together, told people about their rights – civil rights, voting rights, etc.
. . . In 1997 I started as program assistant. A year later, Cindy Brito took ill and I got that job. About a year and a half later. I don't know what happened but Pablo Espinoza retired. I was forced into apply by a group of beautiful people. I applied for the job of program coordinator, and I was hired. The first woman program coordinator. I retired in 2011 for the first time.
. . . Everyone at the AFSC offices, all I had to do was ask and I would get help. Unfortunately, a lot of people are gone at this point. A lot of people said that I did it on my own, I said heck no. People consider me a leader because they responded to the message from the AFSC out there
. . . I had a great time with the AFSC. Thank you very much.