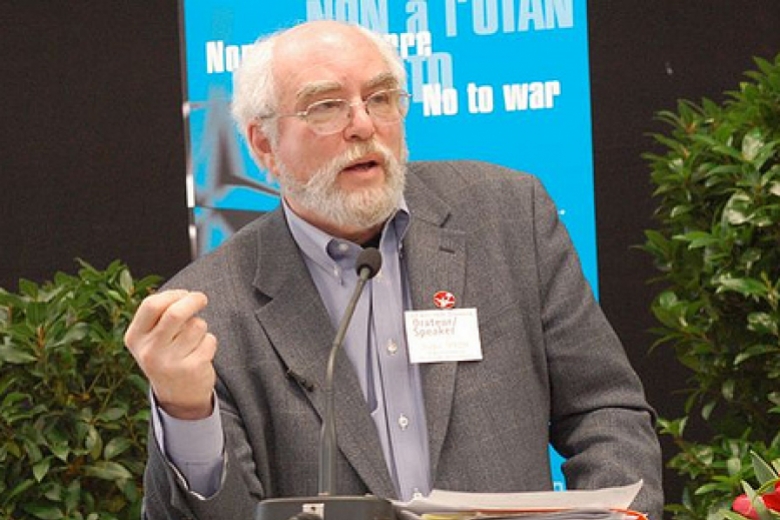 September 11: With Colleagues, Turning on a Dime
September 11, 2001 was a Tuesday, the day after Labor Day, the day that many of us were getting back to work after vacations or otherwise settling back into work. A number of AFSC staff from across the New England Region had planned to meet in our Concord, N.H. office that day to share our plans and ambitions for the year and to see how we might best coordinate our organizing. That was back before the era of "smart" phones and texting. Some of us drove to the meeting with our car radios on. Others enjoyed silence and the scenery. But once we reached Arnie Alpert's second floor office across from the New Hampshire State House, we were all confronted by the news of 9-11 attacks, and by the challenges of what we knew would be its terrible long-term consequences.
It wasn't quite chaos, but emotions ran very high. Jo Comerford from Western Massachusetts and Joseph Gainza each had family in New York, and they worked those old phones and overloaded land lines as furiously as they could, anxious to learn if their loved ones were safe. Others of us worked with near equal intensity to reach our colleagues in Philadelphia to learn how AFSC was responding.
When we could get ourselves to something approaching being settled, before returning to the phones, we thought and sorted ideas and possible responses together. Given our political culture's militarist reflexes, we anticipated that there would be powerful calls for war. Against whom, it wasn't yet clear. That meant returning to our communities – if possible before the day's end – to launch our organizing. And it dictated getting the messaging right. We came up with "No More Victims Anywhere!" and – drawing from our earlier Gulf War slogan – "War Is Not the Answer!"
That afternoon, back in Cambridge, I convened a meeting of leading Boston area peace organizers, people who had worked together in the nuclear weapons freeze movement, for justice and peace in the Middle East, and in the Central America solidarity and anti-corporate globalization movements. We put aside discussion about how to name or structure our coalition for another day (in time it became United for Justice and Peace and remains the primary peace movement coalition in the Boston area). We focused on what we could do immediately. Our situation was a little different than in other cities that were digesting the images and pain of the attacks. The planes that took the lives in New York's twin towers had taken off from Logan Airport, just across the harbor from downtown Boston. Police were swarming seemingly everywhere searching for the attack's perpetrators, and the air was thick with fear. And as in much of the rest of the country, between the trauma and fear, few people had yet discovered the vocabulary needed to communicate what we were thinking and feeling.
We opted to call for a silent vigil the following day -- the 12th -- in Copley Square in downtown Boston. Our message was clear: We grieve the loss and suffering beyond comprehension. We condemn the attacks. War is not the answer. Join us in healing and ending the cycles of violence and retribution. We would distribute our short statement to the press and all passersby. That evening, through the night, and into Wednesday morning we scrambled to inform our networks, prepare our statement, reach the press and make our banners.
The organizing went well until noon on Wednesday, when the radio reported that the Copley Square area had been cordoned off by the police. They were searching the district's hotels in pursuit of those associated with the terrorist attacks. What to do?
Via frantic phone calls, we agreed to move the vigil across the river from Boston to Harvard Square in Cambridge, but we had no idea how many people we could reach with new of the change. E-mail was not yet in his heyday, but that was about all that we had.
It was still light when we gathered and began to line up in front of the First Parish Church in Harvard Square. Those who had been designated spoke to the swarm of media that had found us, while others handed our statement to commuters who stopped to stare or hurried past us as they headed for the T (our subway) and buses.
To our amazement people kept coming and coming and coming to join us, extending our line around the corner, opposite Cambridge Common. By the time the sun began to set we were 700 people communicating a vision of a more humane society, and building the community and solidarity that would be the foundation for the Boston area peace movement, for our contribution to what the New York Times came to term "the second superpower" of the international peace movement, and for much of my work here and with partners around the world to this day.
More From AFSC's Century Of Action