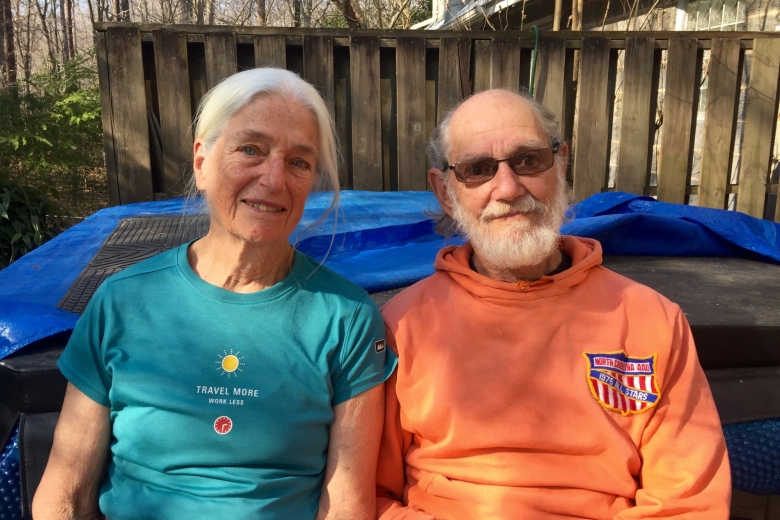 Martha and Peter Klopfer are both lifelong supporters of AFSC. They first got involved with the organization in the '50s through its weekend work camps and went on to serve on the Southeast Regional Board in Atlanta, GA. Peter was also a member of AFSCs South-East Regional Committee in the '60s. Later, they helped found the Carolina Friends School in Durham, NC and now regularly attend Durham Friends Meeting.
Here, they share what was most memorable to them from their time as volunteers:
[Peter] AFSC and its work have become so closely intertwined with our life stories that it is difficult to pick out just one memory to encompass our experience.
However, there is one very important memory that stands out to me, my very first weekend working with AFSC in Pasadena, California, because that was where I met Martha. Growing up in a Quaker meeting, I was raised to hold true that beliefs themselves have no meaning unless expressed in action. That conviction is what led me to become involved with AFSC through its work camps, weekend- and summer-long community service workshops which attracted Quakers and non-Quakers alike to join with AFSC to create positive change in local communities.
I was there with a group of volunteers, living in a camp set up for Mexican orange pickers. Martha and her brother, who both spoke fluent Spanish, also happened to be there teaching English to some of the contract laborers. We met at dinner one night and have been together ever since. You can say we're an "AFSC couple." AFSCs commitment to social justice and dedication to community service brought us together and kept us involved with the organization off and on for the past 60 years.
[Martha] The work camps were very memorable to us, not only because they brought us together, but also because they connected Quaker meetings and worship to direct action. Although I didn't grow up Quaker, I think my parents would have made good Quakers if they'd had a chance. Through the work camps and the people I met during them, including Bob Gray, future General Secretary for the National AFSC, I became more aware of Quakerism and went on to join the meeting. It felt very comfortable for me to be a Quaker. When you go to First Day School and meeting, you listen and seek guidance, and then you do things. So in many ways, Quakerism and service go hand-in-hand for me.
Selected from an interview done by Milena Wuerth, an intern at the AFSC office in Greensboro.
More From AFSC's Century Of Action