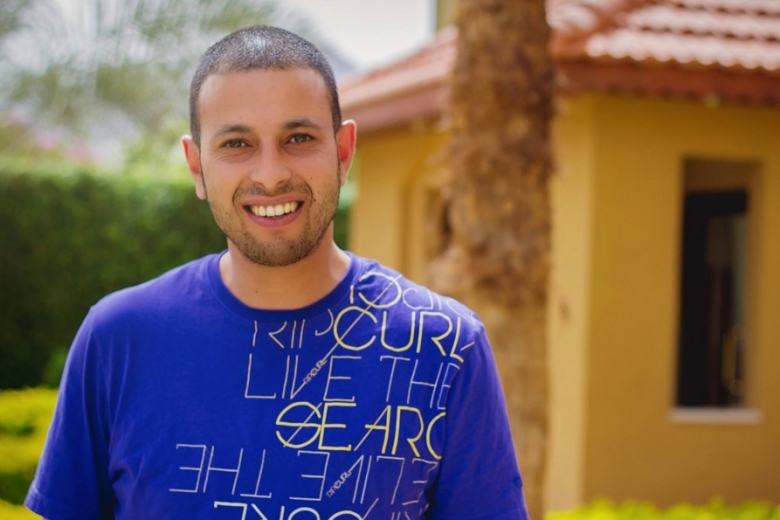 I was 18 when I participated in the Palestine Popular Achievement Program. I am from Beita, a village in the north, and I was active with the Beita Club.
When I first joined the Palestine Popular Achievement Program in 2005, I benefited from training the trainers skills and then, immediately after, I gathered a group of young people to engage in civic engagement work.
This was a challenge but also an opportunity. I encouraged the youth to think about how we could make a difference in our small home town. There were eight bus stops in the village that needed protection covers from the sun and rain, estimated at around $2,500. We discussed, brainstormed, and then decided on the next steps. I asked the youth to meet the mayor of the village alone, so as to empower them. The mayor heartily welcomed them and donated the cost of three umbrellas. Then, thanks to some businessmen in the village, the blacksmith who worked at cost price alone, and coupons sold in the club, all eight umbrellas were installed. This was a real achievement. It broadened our horizons. Youth were asked to go and share their experience in other local NGOs. I was even invited to share this experience abroad.
The program helped us be more persuasive and expressive. One day, the Imam of the Mosque started giving a sermon that our group was a threat to the village and could be regarded as a religious disloyalty: It belonged to an organization that tried to convert people into their religion, not understanding the essence of the matter. We met with him, explained to him the role and ideology of AFSC. One week later, he wondered whether his son could join.
In 2013, I joined AFSC's PYTC as a participant. Having a job as the director of a project at Pal Vision, I wanted to join this AFSC's project. I found the project exciting because it comprised three different geographic locations. I realized that this was a big deal because Palestinians are not used to working together. I also understood fast that Israel has succeeded in separating the areas each one with its separate ideology and interests.
Thanks to the Quakers and their project in Palestine, I became more self-confident and could deal with people easier. I was the youngest member of the board of directors in the Beita club. I have pumped in new ideas and had them accepted. I was a good example for other youth. Today, parents and the village representatives often consult with me on various steps relating to their children. I continued my professional career and became a certified YIF (Youth International Foundation) trainer.
My aspirations have broadened. Quakers helped me realize one thing for certain: that I wanted to work on community development and youth. I aspired for youth to have a larger and more leading role. At the personal level, I took the village one level higher. The passion was there, more then than now maybe, because we were younger. However, the Quakers have certainly enhanced my sense of belonging and achievement.
More From AFSC's Century Of Action