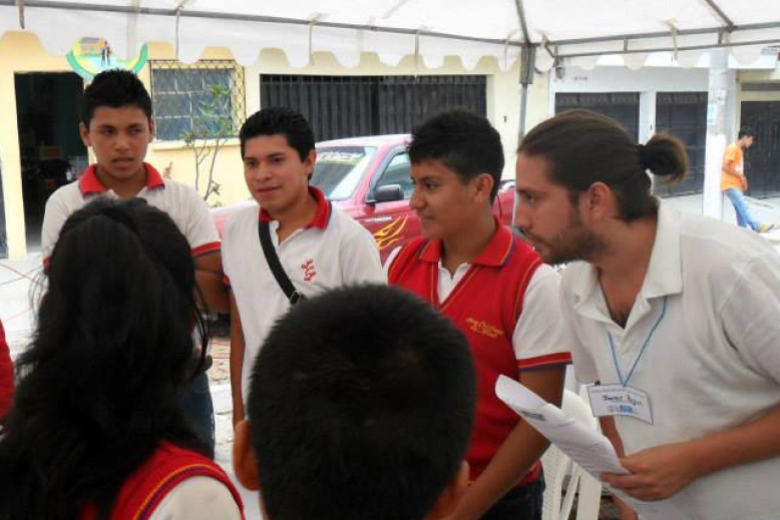 My name is Javier Reyes, I am 29 years old, I am a social psychologist and student of social sciences, I consider myself an enthusiastic and big believer in respect for human rights and peacebuilding. I was born in Guatemala City, I grew up in a military neighborhood, where respect among neighbors was earned by dint of authoritarian discipline and beatings. Sometimes I could avoid this dynamic, sometimes it crashed into me. The structure around you conditions you and gradually, you start to internalize what is imposed on you. Fortunately, I was able to counter such imposition, thanks to the influence of my family.
When I was 19 years old, I was admitted to the only public university in Guatemala, in the psychology career. It was because of a lucky misfortune that I chose a communitarian-social specialization, but that gave me the opportunity to engage youth, women, children, who were living "day by day" and not knowing what might happen tomorrow. With this experience, I realized Guatemalan reality and explore historical and social aspects of my country that ended on unfair and precarious conditions for the majority of Guatemalans at the expense of the privileges of a few.
It was in January 2013 when I joined AFSC, feeling totally identified with its values and its work on violence prevention and peacebuilding. I came with little experience in social violence and few work in urban area, but with a lot of enthusiasm for learning and contributing to the project for which I was hired. For me it was gratifying to know that AFSC was looking for transformations, speaking of persons and not numbers. Under the project "Urban youth civic engagement" we developed local empowerment processes, skills transferring and local peace networks, we promoted civic engagement and the participation of those who are excluded, have no voice or vote in decision making: youth. This was very important for me, because throughout my life I felt excluded for being young.
The opportunity to be able of contribute to change social stigma on youth, is an incentive that drives me every day to work as field officer and educator; the changes on youth, despite they are not detectable in a material way, are notorious visible in attitudes, behaviors, ways of expression showing them empowered, secure and proactive in seeking of fair conditions allow them to live in peace and harmony in their communities.
I have witnessed radical changes in many young people, from the boy who was one step away from joining gangs, and is now leader of a local peace network; to a shy girl who could not stand and talk in front of a group of people, which is now a human rights activist recognized in her community. Over the course of 3 years, I have contributed to see young people understand the reality of their country, meet people and learn about their needs; assume their environment as their own, and with entrepreneurship and innovation, feel empowered to be agents of transformation of those social structures that do not allow the construction of a peace culture.
I know I am a different person compared to who I was 3 years ago, I used to see only changes on some young people who initially were shy and introverted, becoming eventually in peacemakers and community leaders, now I know I have experienced change on my own. I cannot talk about myself without talking about the young participants of the project, it has been a collective two-ways transformation. After acquiring a commitment as the obtained in AFSC, you expect the Quakers values would be reflected in your relationships and decisions, not only in the work/professional area, but in all corners of life itself.
Currently I contribute to the development and implementation of "Local Peace Networks" and "Schools for peace" projects in Guatemala, in addition to specific strategic lines of work with public institutions.
More From AFSC's Century Of Action