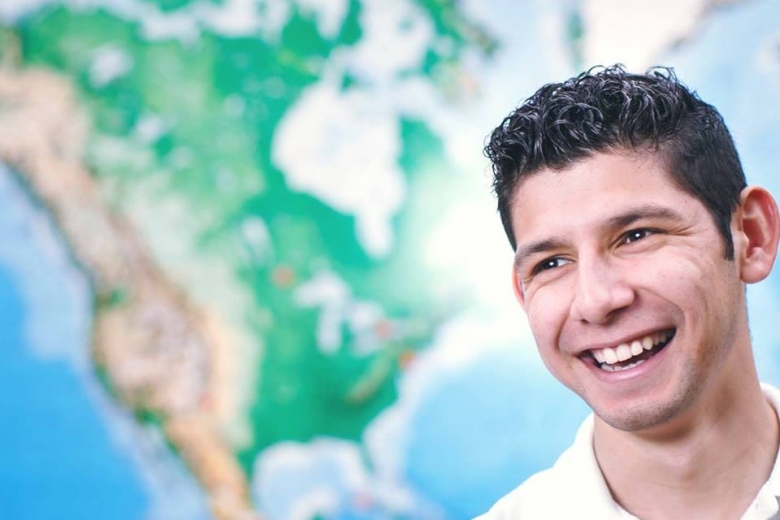 I interned at AFSC last spring and I will always see AFSC as kind of an educational institution because everyone who interns there is doing so many great things. I see AFSC as teaching different values and ways of working with community that I think people carry into their next steps and careers.
When I interned at AFSC, we were doing a leadership program for the immigrant refugee communities. We noticed was that the same type of people were involved all the time and they had so many things on their plate. We wanted to start training younger people, or even just people who were not as connected with the main group. For example, if we were doing an immigrant meeting the same people would always show up, and then in welcoming city initiative meetings the same people would always show up. We wanted to break that cycle, so we spent a lot of time going to different communities trying to build relationships. We got a group of maybe seven people. It was great to be a part of recruiting people and trying to talk to communities about the importance of this and then see them leading different projects. There were some Guilford College people involved, but there were also some older participants. It was really good.
One of the issues I have been working on in AFSC is in-state tuition for undocumented students. For a long time AFSC has been the container for different groups to advocate for this issue. This spring we have been working to introduce a bill in the general assembly. AFSC tends to be a pretty progressive organization but they still are able to work with people from all areas on the political spectrum. Right now we're working very closely with Republicans trying to get people on board to introduce the bill and we have been working with Democrats for a long time. It's really cool that through their work the AFSC has been able to bring groups together despite disagreements. It's pretty amazing to see and not many nonprofits survive a hundred years.