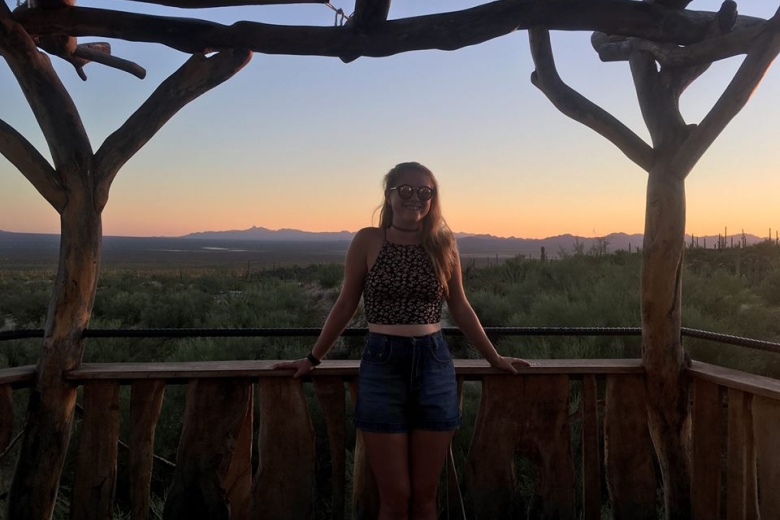 I got involved with AFSC mostly because of a family connection with Lori Khamala. I grew up in a Catholic worker house and my family was involved in a lot of peace and justice work throughout my life. Growing up we always did a pilgrimage for justice and peace that is put on by witness for peace, but the AFSC usually helps plan at least one day of the pilgrimage. Lori was sometimes a core walker, which means that she walked for the full week leading up to Easter, and so as a child I grew up walking with her on this pilgrimage and seeing her at different social justice events and protests.
And then when I went to Guilford College I became a Bonner scholar and AFSC was so close by. I ran into Lori at a Moral Monday protest and talked to her about it and I turned in my application and I ended up interning with them for one school year. First semester I did just general intern duties and then second semester Lori asked me to come on as the digital storytelling intern. I helped prepare and lead the digital storytelling workshops with immigrant youth.
We led a series of workshops with different youth group organizations specifically working with immigrant youth or with children of immigrants. We helped teach them how to put together a short video telling their story, so many of them spoke about their experiences or their parents experiences traveling to this country and the struggles that their families face now that they live here and also about their hopes and dreams.
Helping with the digital storytelling workshops really taught me how to do it myself, and that's definitely a skill that I've carried on because I've been able to utilize those skills multiple times. When I went on the No More Deaths alternative spring break trip when I was a sophomore, which was during my time interning at AFSC… No More Deaths is a humanitarian aid organization that helps migrants in the desert specifically with food and water as well as medical help. Their slogan is humanitarian aid is never a crime because they're not helping people to illegally come to the United States, they're just making sure that people don't die in the desert. And so I did that trip and it was very emotional and eye opening. We camped in the desert and hiked to do water and food drop offs, and when I came back I wrote a narrative about that experience and was actually able to make a digital storytelling video with footage and photographs that I'd taken during the trip and so that was really awesome.
And so now I still use that, especially since I've moved to Tucson Arizona, which is right near where I did the No More Deaths trip. No More Deaths is still active in the desert helping migrants, and I have been able to show my video to my community that I live with now as a part of the Jesuit Volunteer Corp. I've also shown it to people throughout the years just to help people understand what's going on in the desert with immigration policies and how it directly affects human beings, and so it was really awesome that I was able to learn that from AFSC.
I think that AFSC helped me learn a lot about working with a non profit. It helped me to understand the ways that people have careers doing social justice work, which is something that is important to me because it's something that I want in my life as well. I majored in Sociology and Anthropology and my minor was Community Justice Studies, and so I'm planning to have my career be focused on social justice. It was just awesome to see that example and I learned about how to make a newsletter, how to organize a protest or a different event or how to advertise for things. I learned a lot of community organizing skills from working with AFSC and I think they're doing really amazing work. I'm just really happy to have been a part of it.