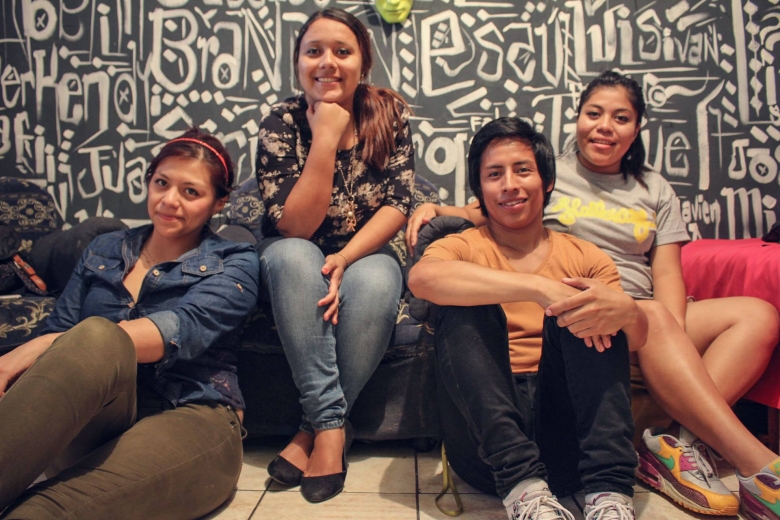 My name is Joselyne Villela, I'm 21 years old. I grew up in a small community of the Verapaces area, named Fray Bartolomé de las Casas. This community is located at 8 hours away from Guatemala City. Fray, as we call our community, was one of the areas that had more human rights violations during the civil war in the 80s. The CREOMPAZ facilities are there. You might have heard about it because there is an ongoing judicial process against several militaries charged of forced disappearances.
The community was abandoned to the state policies, unknown to its remoteness, depleted from a neoliberal development approach, and with strong roots of discrimination, sexism and adultcentrism in all areas in the community. Growing up in these situations, it woke up my desires to protect and promote human rights to all people but specially of youth.
However this desire was plagued with difficulties, as I moved to Guatemala city, I went to study at the central campus of the only public university in the country, and against of the pressure from my parents for me to become a systems engineer, I decided to study social sciences. My parents coerced me to register me in the career that they chose, however my ideology and life experiences led me to question the reality in which many young people and me lived, leading me to take, at age 16, to the most important decision that I had made in my life, studying International affairs, that gave me the opportunity to question and analyze the situation of the country.
During the last year of my career, I could familiarize with conflict transformation and peace building of AFSC approach in Guatemala which I knew through the professional practices program from the state university and the space that AFSC provides to college students interested in the violence prevention and peace building. AFSC allowed me to learn about the LPN program and I have been able to connect with youth and adult leaders from different communities, who were displaced or are living at high risk as a result of the violence and exclusion in which they live.
I am thankful to AFSC because I've been able to learn about youth struggles in the urban areas of the Guatemala City, also I have learned new approaches to prevent violence and to promote peace building around youth that like me, at a certain moment, have been discriminated against and ignored, but that are willing to generate change in themselves and in their communities.
More From AFSC's Century Of Action