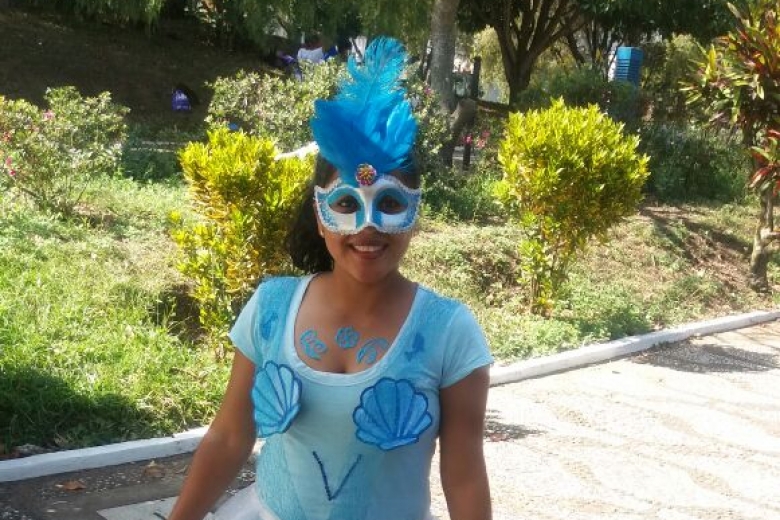 Hello, my name is Victoria Leonardo, I'm a young woman and a mother, I was born in Guatemala City. I'm 29 years old; I finished my career as a social communicator, I have worked for Guatemalan's family program and I am a human rights activist. I grew up in a very close working-class and religious family, my parents worked hard to provide my brother and me what we need and teach us to be productive and good people for our community, as my mom always says: "the only thing that anyone cannot take from us, is our knowledge".
My neighborhood, it's a place marked by the government as a red zone or hot spot (extremely dangerous) because every single day at least one person is killed. Also, gangs control the sector, kids and young people are used as weapons for organized crime activities… to me, it was normal until I had the opportunity to study in high school in another neighborhood. In that place I met people with better conditions, some better and some worse than mine; there it became visible to me and it was shocking… finally, I understood discrimination.
Since I remember, the church and religion are fundamental for my family. I belong to a sisterhood that preaches that every living being is my equal. I took that for my life and adapt it as my philosophy. Being in that context, 15 years ago when I was a teenager, I realized that every person had the same rights, and I started to defend my rights rejecting society's stereotypes and youth criminalization. I realized that it wasn't our fault that violence increased, just as adults say. I found that, overpopulation, illiteracy, unemployment and machismo, are the bases of inequality in our context, where kids are raised and we have to deal with it every day.
I took all of this social conscience and made a choice, to become a young leader and advocate for the protection of human rights of young people in my community, I just wanted that other have, at least, the same opportunities that I had. Some friends and I started a local organization than prevents violence and gives space to young people where they can feel identified, and through playful learning, they receive training's on topics such as defense of rights, citizenship, public policies, etc., to remove structured fear, silence, and lack of interest to youth struggles. Now I understand my mission: I can take big steps, I can get great results and have a positive impact.
Sadly, all the work that my friends and I were making was being minimized because we didn't have economic resources and any support from other organizations. We started to knock on doors and at the right moment AFSC appeared. AFSC was looking for local organizations that wanted to work together in peace culture and conflict transformation. They also were looking for a field officer who had experience in violence prevention and peace culture. I applied for the job and I didn't imagine that I could be chosen for this huge organization with many years of experience in the field of peace.
The first day at the office it was rewarding because I realized that AFSC has a professional and committed team and I became part of them. I was extremely happy because I had the opportunity to get a job where the most important thing was to recognize youth people and to defend human's rights. For me, it was like a dream come true, I could finally have a broader mission.
This experience opened my mind, because I could see how AFSC was committed to build up an empowered youth generation in Guatemala. Local organizations are not alone. There are many efforts around peace culture like looking for new strategies to build social awareness. For this reason, I feel so proud to belong at this organization because I'm sure that all we are doing here in Guatemala -such as all over the world- is making a difference and is contributing for young people to not lose their humanity.
More From AFSC's Century Of Action