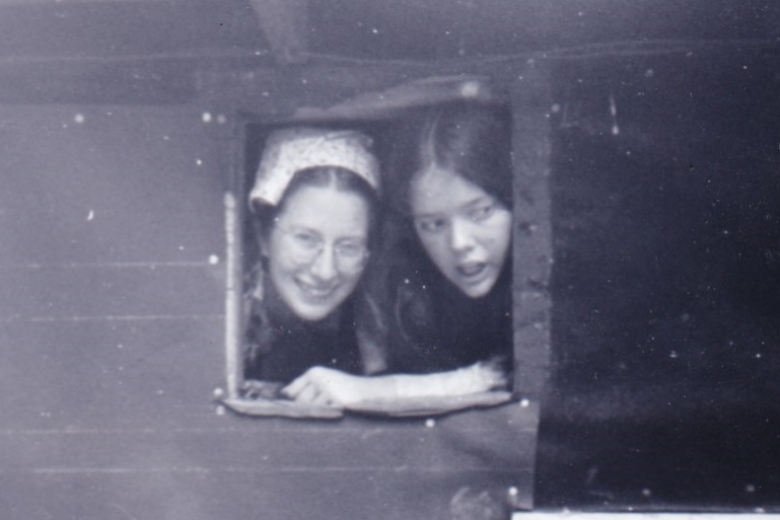 The stories of my mother's experience in an AFSC work camp were a staple in my childhood. It is only now that I realize how contemporary those experiences were for her, as they had occurred only five years before I was born. (Her story is under the 1950's tab.) AFSC was a dinner-time acronym; I "always" knew of its work and reputation. As a young teen, I created the flyer and volunteered for Milwaukee Meeting's first AFSC Gift Shop and my parents grew Christmas trees to sell there for many years. (The event still survives. In 2015, Milwaukee Meeting hosted the 44th International Gift Shop, with proceeds split between AFSC and FCNL.)
When I learned that I, too, could take part in an AFSC work camp, I jumped at the opportunity. I was a rising high school senior in 1974 and the work camp would take place in Putnam County, West Virginia. We would focus on winterization of homes of rural people in the area. I was all in. My brother convinced the head housekeeper at the nursing home where he worked to hire me as a cleaning lady for a month so I could earn enough to augment the funds my meeting gave me. I bought a bus ticket and $50 of traveler's checks and headed off to West Virginia.
The work was hard and hot, insulating attics and walls, glazing windows, and installing skirting panels to houses that had none. We lived in a Head Start Center, where we ate at tiny tables, slept on cots and showered from a hose hooked up outside. The hill above the center was covered with sassafras trees with their mitten-like leaves. John Denver's "Almost Heaven, West Virginia" had hit the top of the charts a couple years earlier, but had just become the official state anthem in March of that year. It played in every café and grocery store. The people we served were mountain people, hardworking, poor, and proud of their state. The pride was infectious and we all adopted West Virginia as our heart-home by the end of the summer.
It was during that summer that Richard Nixon resigned. The work camp had been granted a modest budget for entertainment and we spent a large portion of it to rent a television to watch his resignation speech. Crowded around the tiny tables, with our knees up to our chins, we watched in complete silence as history unrolled itself before our eyes.
It's hard to extract the lessons of the summer. I saw rural poverty of a kind I hadn't known existed. I'd made connections to some of the people whose homes we worked on that were warm and genuine, across the divide of our lives. I grew to understand that being able to take pride in your life was more important than the material wealth you had. And I learned that sometimes that even when that pride took forms that weren't healthy, it was nearly as important as food and shelter. Today, I appreciate that if we seek to understand those folks to vote "against their interests", we need to look beyond their financial interests and see how they believe they are voting in the interests of their dignity.
"Dignity is like air. When you breathe easily, you don't think about it. But, when you don't have enough of it, all you can think about is air, air, more air!" -Aigul Aubanova