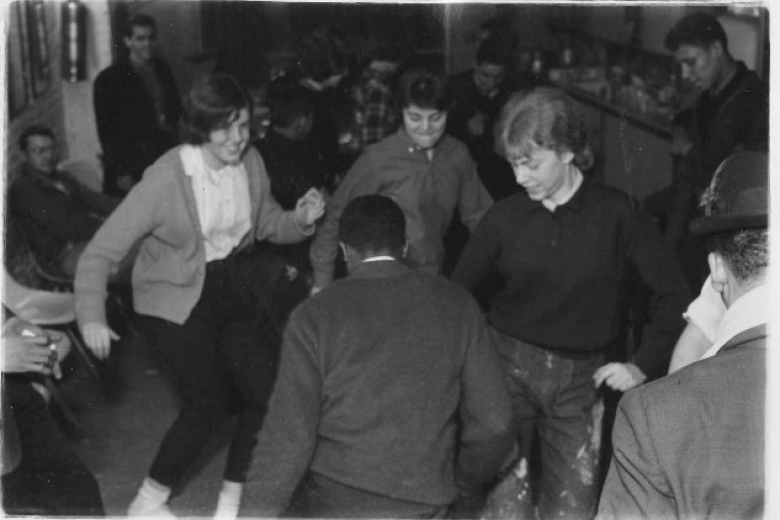 Friends Neighborhood Group was a unique project of the American Friends Service Committee and was started as an outgrowth of the AFSC Weekend Workcamps. It began in 1958 with a group of young people who committed to living in New York's East Harlem, becoming part of the neighborhood. I joined the group because I wanted to DO something.
FNG members found that their neighbors' problems soon became their own. The real challenge, the real growth, came from living day by day in direct contact with some of the most severe economic and social problems of the time.
I was looking for a challenge and to experience something new, and AFSC offered that opportunity. Spanish Harlem was a vibrant, exciting place to be at that time. I lived in a railroad flat with two other families; each living in one bedroom. I was lucky to have my own room but everyone traveled through it to get to the shared kitchen and bathroom.
The AFSC operated a building on East 111th Street which our group used for our meetings and as a community center for local activities. That is where I met my husband Hugh. So the experience really did shape my life going forward.
During the day I worked at Bellevue Hospital Center but in the evenings and on the weekends we did service projects. I was with the group for two years. We had a number of successful endeavors but I was involved with a campaign to help a group of individuals who had been turned out of their apartments because of redevelopment. At the time there was no recourse – they were turned out without any place to go and no compensation for the change in circumstances. We helped to form a local residents association which worked with City Hall to get $300 per person so that as redevelopment occurred at least people had some funds to help them relocate. I still remember that victory these many years later – we had DONE something!
More From AFSC's Century Of Action