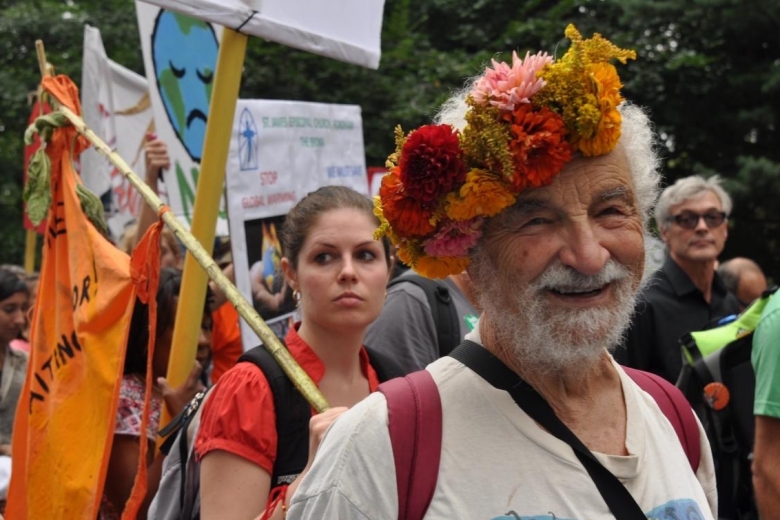 From Junior Work Camp to Lifelong Peace and Justice Activist
In 1945, at an AFSC summer work camp for high school students, I had my first extended exposure to Black people, the thirteen families living "across the railroad tracks" in Paoli, PA. David Ritchie had organized weekend work camps with these families, members of the "Golden Thread Club," who had pooled their money to buy seven duplexes in "Greentree Hollow" from the heirs of their prior landlord, and the summer work camp proceeded to dig a cesspool for the first flush toilet there, make roof and chimney repairs, scrape and paint the houses, and socialize with some truly memorable people. I was 15, between my junior and senior years at the Louisville Male High School – high schools in Louisville, KY, were racially segregated and, for white students, gender-segregated. My aunt Ruth Dross, at the time working in the AFSC clothing workroom in Chicago, had suggested I go to the work camp. I met my future wife, Nancy Tomlinson Hall, there, though we did not pair up at the time.
The two most memorable members of the Greentree Hollow community were Mr. Cunningham, the main organizer of the Golden Thread Club and quite an orator, who told us at a social that he had only gone through 7th grade, but that lots of people go through school without school going through them; and Mary Cunningham, at 28 the wife of a disabled man and the mother of five, working two jobs to make ends meet, sleeping about four hours a night, and always with the most cheerful warmth you could imagine. Forty years later, in 1985, after a Philadelphia visit to my aunt Ruth, Nancy and I would make a Sunday morning trip to where I remembered Greentree Hollow in Paoli. We found it, six of the houses still standing, Mrs. Cunningham sitting in a rocker on her porch. We were slightly surprised to see this most regular of churchgoers at home during services, but she said she had graduated from that, she knew what was being preached as well as the preacher did. She told us that the Paoli Hospital had been trying for years to buy the homes – at a good price – to tear them down and increase its parking lot, but that the remaining residents bravely resisted selling the only place they knew.
The big event during the summer of '45 was the atomic bombing of Hiroshima and Nagasaki. At the same time, in Louisville, my mother and I were caught up in World Federalism. During my senior year of high school, 1945-46, I became an activist. I won a contest sponsored by the Colonial Dames of America with an essay on world government, and, with a few others, sat in at the mayor's office to demand an end to racial segregation in the public parks, which demand was met by the summer.
My most sustained piece of activism came in response to a late 1957 request from CORE (the Congress of Racial Equality) to reorganize a Boston chapter. I had just taken my first full-time job teaching physics at a local university and was finishing up the writing of my Ph.D. thesis. I agreed to do it after the academic year ended. I told myself that the most burning issue for me was peace, but, at this peak of the cold war, I needed to hone my activist skills in the "easier" terrain of race relations. At least, with CORE, I knew the rules of the process. For the next year and a half the work of our small core of CORE activists consumed 15-20 hours of every week. With the rising support for the southern lunch counter sit-ins in early 1960 it was time for whites to simply support leadership by Black people.
I have remained an activist during most of the ensuing 56 years, currently as much as ever – but that's another story.
More From AFSC's Century Of Action