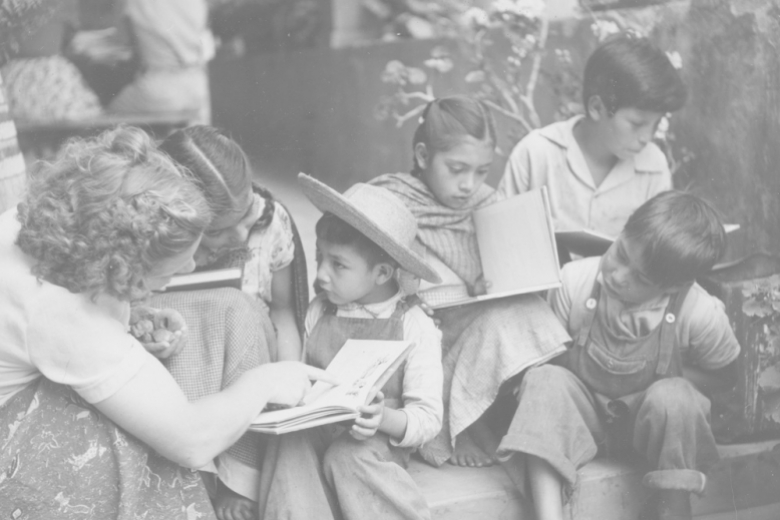 I was just four years old when I became an AFSC volunteer. In 1957-58 my mother and father were leaders of an international work camp in Mexico. My five-year-old brother and I were part of the package. We lived for a year in the tiny town of El Verde in Puebla state, right at the foot of Iztaccihuatl.
The work camp groups---there was a summer crew and a winter crew---all lived together in an abandoned hacienda, sharing meals and stories, songs and chores. The hacienda had no electricity or running water, but a perfectly fine pump, and an inner courtyard with four fruit trees. I remember lemon, lime, orange, and pomegranate. We were told there were ghosts---which was thrilling---and I was early-on instructed to turn my shoes upside down after taking them off at night so that scorpions would not drop into them from the ceiling.
I guess all of the international volunteers helped take care of me, but I especially remember Doris (from the UK), Gigo (Israel), and the very tall Von Peacock who sometimes carried me on his shoulders when we walked around town. I became best friends with a girl named Yolanda, and pretty soon refused to speak English with my family.
The AFSC work camp became a foundational part of my growing up. My parents and grandparents were left progressives and civil rights activists in the US South, so I began with immediate understanding of the call to care for one's neighbors, one's community, one's world. The international volunteers drew my young attention to the universal nature of that call. In later years I watched my mother, in particular, give her energy and time to fair housing, peace (often at the Washington Peace Center), anti-apartheid activity, and voter registration. She turns 92 this year, and two weeks ago the two of us went to a vigil, in Easton, Maryland, for the Orlando shooting victims.
More From AFSC's Century Of Action