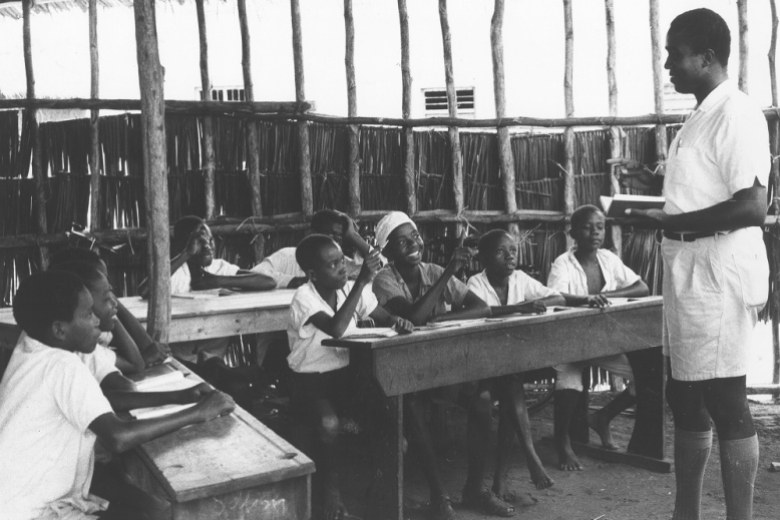 It was 1967 and I was beginning my second year as a volunteer with AFSC's VISA (Voluntary International Service Assignments) program in Tanzania. I had been living for a year in Liweta, a village about 20 miles from Songea, Ruvuma Region, in southern Tanzania, where I had been working with women to help set up a daycare so they could work in the fields along with the men and also taught sewing and Swahili literacy classes. It was time to move to another village, Nalunya, which, like Liweta, was one of 14 villages that made up the Ruvuma Development Association, an association of villages that were carrying out President Julius Nyerere's vision of "ujamaa," African socialist development. Nalunya was about 100 miles south of Songea. The only way I could get there was with the Tanzanian army which was patrolling the Tanzania-Mozambique border. So I jumped on the landrover with a few clothes and canned food and headed south. I moved into my mud and wattle house and began getting acquainted with the women and men in the village and trying to figure out how I could be helpful. I could often hear the sound of Portuguese bombs falling on northern Mozambique.
President Nyerere had been giving speeches over the radio calling on men and women throughout Tanzania to work together to develop the country. "In order for Tanzania to develop, women must work alongside men in the fields," he exhorted.
The story I want to tell is about the women in Nalunya, the village I worked in from 1967-68. Like Liweta, Nalunya was an ujamaa village and that meant that all decisions pertaining to the village, farming, gardening, water, etc., were made in weekly common meetings of the entire village. Everyone sat around in one large room, but all of the men sat in the front and did most of the talking and all of the women sat at the back and talked very little. I sat with the women in the back. It was hard to hear everything the men said. During one evening meeting a woman whom I had discovered had real leadership skills stood up and in a determined voice, stated to the men in the front, "We are tired of sitting at the back of the room and not being able to hear what you men are talking about. If you do not let us sit with you in the front and participate equally with you in discussions about the village, we are going to stop cooking your meals!" All the women clapped and expressed approval. Soon after that, the men invited the women to sit among them and participate in their discussions.
More From AFSC's Century Of Action