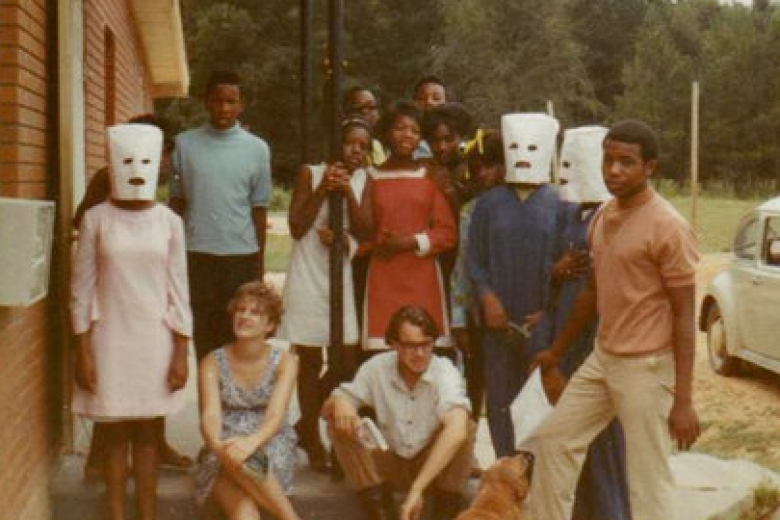 A Bold Performance
MENDENHALL, MISS., 1969
Here is the high school cast of "Blues for Mister Charlie" in a summer tutoring program sponsored by Voice of Calvary Church to prepare children for school integration. The American Friends Service Committee sent two college students, Louise Fox (seated) and me, to help teach. Doug Huemmer (seated) came on his own.
We bought all the copies of the play that we could find — only five, not enough — so teenagers copied out lines by hand. They painted white paper bag masks for some roles, because there were only three of us whites. Here in her blue robe and mask, Mary Hardy, 16, played the role of the judge. Decades later she was office manager for the state Obama campaign.
At right is Spencer Perkins, 16, recovering after he and his four younger siblings spent two years in a white school under Mississippi's Freedom of Choice alternative to integration, later described in his book "More Than Equals" as a "nightmare of physical and emotional cruelty."
Their performance of James Baldwin's play, based on the killing of Emmett Till, was a great community success. Seven months after this photo was taken, Spencer's father, the Rev. John Perkins, and Doug were jailed and severely beaten by a local sheriff for their civil rights efforts.
Taken from the New York Times
More From AFSC's Century Of Action