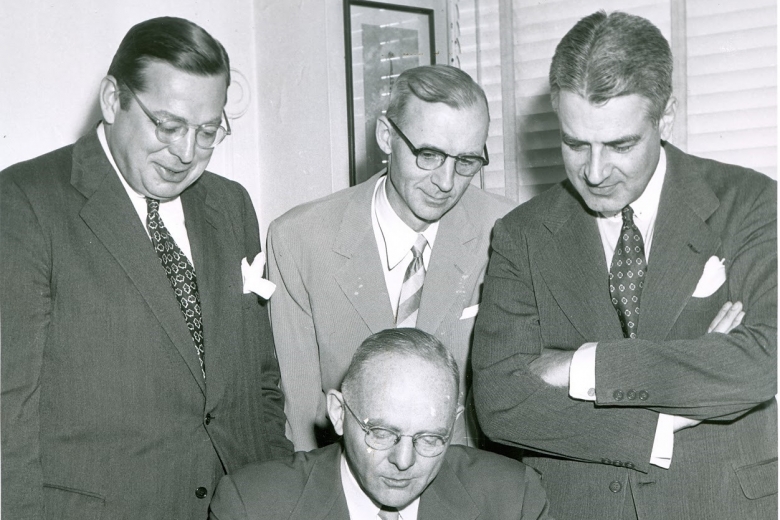 Written by Alan Crosman
Hurford Crosman, after service with the AFSC in France returned to finish Earlham College and then had a career in business, including working for the Monroe Calculator Co. While an Earlham student he had become acquainted with Clarence Pickett. In 1942 he was recruited by the AFSC to take charge of the Self Help Housing program. The AFSC program became the model for Habitat for Humanity. He shared that story with his family as follows:
"While I was still with Monroe, Homer Morris came to see me and told me about Penn Craft in Fayette County, PA. He and Clarence Pickett had made it possible for 50 coal mining families to build their own homes with their own hands under the supervision of a project manager, David Day.
They wanted to build a second project and Homer Morris wanted to tackle another assignment in the AFSC. He asked me not only to raise the money for it and to direct the operation but he also wanted a salesman to sell the idea for others who might want to copy the method.
I asked Homer why he picked on me. It developed that several years before the Providence, R.I. I had mentioned casually to Elizabeth Chace that it seemed too bad that I was spending the fringes of my time of chairman of the R.I. F.O.R. [Fellowship of Reconciliation] and other concerns about helping the world and that I was spending the bulk of time selling Monroe Calculating Machines to feed my wife and four children. She, it seems, had told the personnel manager of AFSC.
So the main part I played except for working with David Day during the building of the second project was in financing it. I went to the head man in the coal subsidiary of the U.S. Steel Company who had given the A.F.S.C (through Clarence Pickett) $70,000 for the first project and as a result he gave through me another $35,000 because it was a smaller project.
Now for selling the idea. I persuaded a writer connected with the Readers' Digest to take the train with me to Pittsburgh and then down to Penn Craft. As a result the story appeared in the Readers' Digest with the title "How 50 Coal Miner Families Built Their Own Homes With Their Own Hands."
Al Lasch coming home from the Pacific War read the Readers Digest story and needing a house he talked with a number of his fellow workmen in the International Steel Co and five of them drove down to Fayette County to see if the story was real. I told them I would come to Lorain, Ohio to help them set up a project of their own.
The banks wouldn't listen to such a wild idea because we needed a construction loan to buy the land and start building. We went to the National Steel Workers Union. No! Finally thirty seven families begged, borrowed or stole $500 each. Thus with $18,500 they bought land and building material for one house.
When that was finished we went to the bank again and said, "Now please, send an appraiser and with mortgage money we'll build the second house." The appraiser said, "O.K., $6,000." Oh, but we only need a mortgage of $3,000 because our labor is free.
After six houses were finished the bank gave in and granted enough construction loan to start building the rest of the 37 houses at once. By this time they needed the kind of project manager that Penn Craft had had. So I introduced them to Max Ratner and Douglas Johnson, architects and engineers who stayed with the project until all 37 houses were finished. Max and Douglas were both C.O.'s and were glad to tackle a job which Uncle Sam would recognize as worthy.
The last Self Help project the AFSC tackled was at 8th and Brown Streets in the slums of Philadelphia. The Self Help Committee had William A. Clarke as chairman and without him nothing would have happened.
He bought thru eminent domain the entire city block bounded by 8th st, Brown, Franklin, & Fairmount. Three story Civil War era buildings owned by wealthy people, one family in each building. When we bought it, one family in each room, bed in one corner, cold running water in another, table for eating in another and a hot plate in the fourth, toilet for several families down the hall. Awful trash in the outside court in the middle of all the buildings.
We made arrangements with a well known Quaker Settlement house, the Friends Neighborhood Guild, to have charge of choosing families to become owners by buying shares of a cooperative and renting an apartment after putting in many hours of labor in lieu of cash down payments. Each family was then to make monthly payments to pay off the bank mortgages. And so how to finance the project?
Bill Clarke introduced me to F.H.A. local official who said, "No" to the whole idea. Cooperative ownership – fixed inter racial complexion – self help down payment – location in the slums – Quakers are naïve, not business minded.
So Bill took me to Washington and we sold the whole idea to the head of the F.H.A. And don't forget, Bill was at that time chairman of the National Association of Mortgage Bankers. The F.H.A. head phoned his Philadelphia office while we sat there and told them to give us anything we wanted, which was an F.H.A. commitment for one million dollars.
Next P.S.F.S. (Philadelphia Savings Fund Society) loaned us one half million to complete one half of the project. Then a well know architect redesigned the entire block into 88 modern apartments, and a Quaker builder, the Unkefers, went to work, his company doing most of it, and he guided the new owners to do all kinds of jobs, painting, carpentering, etc. One interesting story is that one single lady learned how to lay tile for her bathroom floor. She became so good at it that she got the job of laying 88 bathroom floors.
Half the project was finished and now it was up to me (no help from Bill) to find a bank which would furnish the other half million dollars. I went to the largest Quaker bank, the Provident Trust Co, who gave a flat no. So I went to a new bank, the Fidelity Philadelphia Trust Co, and asked the vice president in charge of Real Estate loans to come with me to see what we had done.
He then asked me to come to a luncheon where I told my story to every vice president in the bank. "Mister Crosman, please leave the room." Soon I was asked back and was told the bank would furnish the loan for half a million dollars. I went back to my office on Cloud 9. In a few minutes, however, my phone rang and it was the vice president. "Mr Crosman, we have been thinking ever since you lefts us." My heart stopped beating. "You told us F.H.A. would only allow us to charge 4 ½ % interest. We've decided we'll grant the loan at 4 % because we wish to have a small say in what you are doing to help rebuild the slums of Philadelphia."
Now on a 40 year mortgage ½ % will amount to quite a gift. Now that almost 30 years have passed I was able to visit Philadelphia and took pains to look at the condition of the court in the middle of the buildings. We had cleaned up the trash, planted trees, made nice lawns etc. 30 years later the court was even more beautiful than before. They had built a small corner into a lovely garden and a sign said, "Giff's Corner". It seems Gifford, one of the original 88 owners, had died and this corner was a memorial to him. I also learned on this trip that during the entire 30 years, neither bank had ever missed a single monthly payment. So the cooperative ownership which a lot of people said would never work, had worked."
Additional notes - Paul Lacey, Earlham College professor and a Board Chair for the AFSC, often reminded members of the Crosman family that his first introduction to the AFSC was as a teenage participant in work camps organized by Hurford Crosman in support of the Self Help Housing program at 8th and Brown.
Recently Hurford Crosman's great grandson, a medical student, was looking for affordable housing in Philadelphia. It was suggested he check out Friends Cooperative Housing at 8th and Brown, and he and his wife eventually moved there and in 2016 still reside there. It was only after they were residents that they learned of his great grandfather's role in the project.
After retiring from the AFSC in 1958 Hurford Crosman moved to Ann Arbor, MI. In 1960 he accepted a two year appointment to establish an Area AFSC Office in Ann Arbor as part of the then Dayton Regional Office.