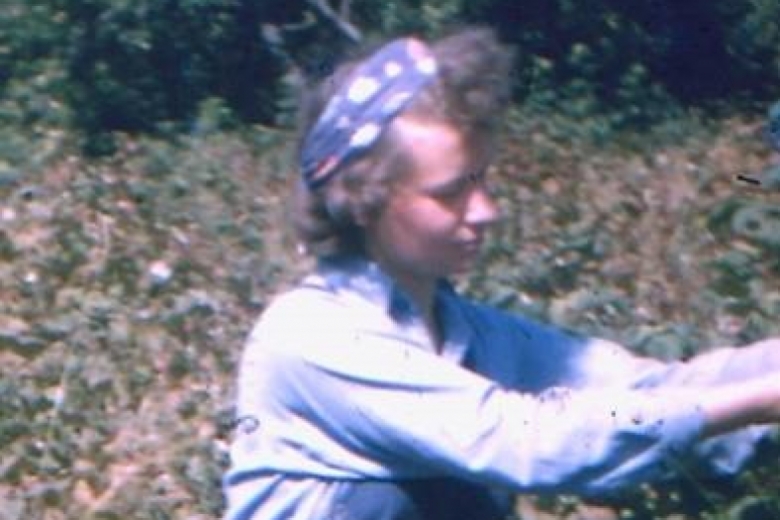 On graduation from a Seattle high school in 1939, I joined an American Youth Hostel group to spend the summer bicycling from Austria through Yugoslavia, Hungary and Poland. We made it back to Paris the night before the Nazis invaded Poland. The next day, September 3rd, war was declared. Ships to New York were so crowded we had to stay a month in Paris before we could get home.
The French were afraid Germany would bomb Paris. Warning sirens sounded almost every night. Along with crying children and terrified adults, we would rush to the air raid shelter. When I finally got a booking to New York, I felt guilty that I ,with my American passport, could get out while all the good hospitable people we had met that summer were doomed to stay. That experience made me determined to return to Europe after the war to help people rebuild their shattered lives.
I learned of AFSC through my sister's husband who was a Philadelphia Quaker. He encouraged me to come east to Swarthmore College where I got involved in AFSC's youth programs. I went on to the Columbia School of Social Work and volunteered with AFSC's 'New Americans' program for Jewish refugees and as assistant director of a summer Mexican work camp.
In June 1947, I went to Finland to help build houses for war widows. Our work camp was located north of the Artic Circle in an area which had been destroyed by the German army as it retreated causing the people to flee. Upon returning after the war to rebuild their homes, many men were killed by the land mines left in fields and wells. Their widows and children were surviving the winter in tiny log saunas.
Of the twenty-two volunteers, half were Finnish and the rest from Norway, Sweden, Denmark, Holland and three from the United States. We lived in tents by a lake, working early to late in 24 hour sunshine. By the end of the summer, we had completed about a dozen homes scattered on farms outside Sarkela, our small village.
Although only three of us were Quaker, we held quiet meetings for worship on Sundays and discussions about reconciliation and peace. Having respect for each other and making decisions by consensus were basic to Quaker practice. Before each meal, we joined hands to sing international folk songs.
After camp, Steve Cary of AFSC asked me to go to the Paris office to help coordinate AFSC's program with the vibrant European work camp movement, especially Service Civil International, founded by a Quaker pacifist after War I. Each summer, AFSC was invited to send 60 American volunteers to work alongside local volunteers in restoring war torn communities. As I visited the camps, I met former enemies working side by side . With youthful enthusiasm, we were convinced we could build a more peaceful world.
At the end of 1949, I returned to Philadelphia to direct the international work camp program. There I met Frank Hunt and we were married in 1951 and I joined him in Israel. For the next three years we worked together in Israel and Korea.
After years of working on issues of poverty and civil rights in my own neighborhood, I returned to AFSC in 1973 as coordinator of the Africa programs for fourteen years. Our goal was to enable people, especially women, to gain skills and resources to improve their lives. By 1982, AFSC had community development programs in eight countries. The International and Peace Divisions also sponsored a southern Africa education program about the liberation movements and the struggle for majority rule. When Zimbabwe became independent, AFSC was among the first organizations to offer help.
One of our most challenging projects was to help nomads in northern Mali survive the severe drought that had killed their cattle herds causing mass starvation. In 1975, AFSC was asked to work in Tin Aicha to reconstitute herds, establish a school, and provide seeds and training to grow rice on the flood plain of the Niger River. When I visited four years later, the head of the village thanked AFSC for saving their lives, but more important, he said, was for restoring their dignity.
Looking back, I am humbled by the capacity, indeed the faith and compassion whatever one's religion, that people have. Even under extreme stress , our humanity holds us together. I trust that Power which is striving toward good. I have been privileged to be part of AFSC's century of service.
More From AFSC's Century Of Action