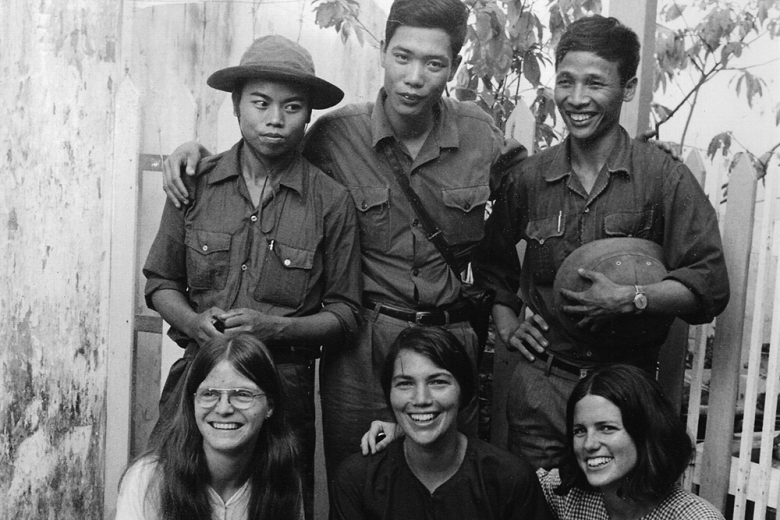 We Were There For The Liberation of Viet Nam
This photo is from the day after liberation in Viet Nam, May 1, 1975. I'm on the left. The other two women and I worked with AFSC and were in Saigon for liberation. We met the soldiers (behind us) and they were fascinated with us---American women. They were liberation forces who had certainly never been in Saigon before, and had definitely not met Americans. I was one of only about a dozen Americans (and three women I know of) who stayed in Viet Nam through liberation.
My husband, Keith Brinton, and I were co-directors of the AFSC Quang Ngai program from March of 1973 until July of 1975, when we came back to the US, where we took off on a speaking tour and later I worked at the Philadelphia office for a while, with John McAuliff.
Quang Ngai was controlled by the Saigon government during the day, and the Liberation Front at night. Our AFSC rehab center in Quang Ngai had a staff of 55 Vietnamese, and 5 non-Vietnamese. There had been six of us, but Rick Thompson died in a plane crash in November of 1974, a terrible tragedy we shared with the other families in Quang Ngai who lost loved ones on that flight. It was an Air Viet Nam flight and it ran into a mountain in bad weather, and Rick died.
At our rehab center we served hundreds of injured civilians from all sides of the conflict, Most were amputees, and most injuries were caused by land mines. We also had some children who had white phosphorus burns, some polio, etc.
In addition to our rehab center work, we also hosted visiting journalists and politicians, who often came specifically to see My Lai, which is near Quang Ngai. We also worked on the women's prison ward with tortured prisoners, and took pictures of them and sent them to the US. I wrote a number of articles that were printed in US magazines, including The New Republic and Ms Magazine.
Our goal in Quang Ngai was to turn our rehab center over to the Vietnamese government, but until liberation, there was no government entity that would take responsibility for it and continue to pay salaries. After liberation, it was indeed able to continue to function under the new government.
More From AFSC's Century Of Action