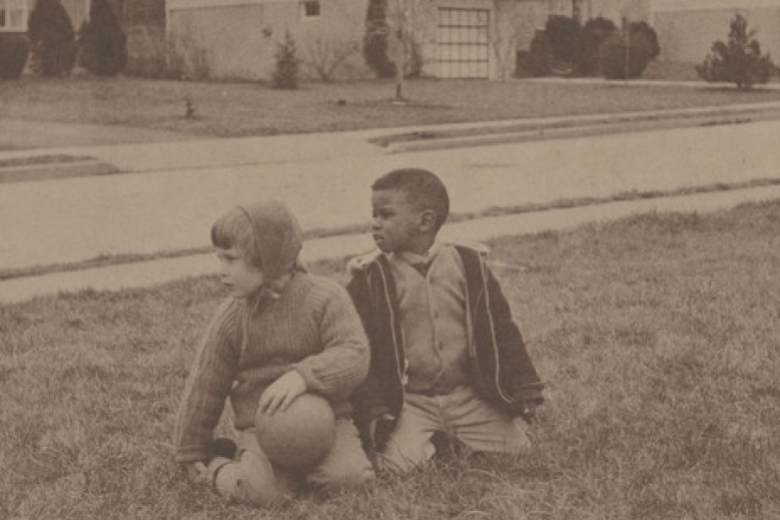 With my husband George, I was a staff member and a partner. One of my first jobs was working for AFSC in the Philadelphia office and I remained engaged as a volunteer for the Community Relations Committee after moving to Washington, DC.
AFSC doesn't always do the popular thing but they do what they think is right – that is why I support the organization.
George and I worked together with the Service Committee on Fair Housing. Starting in the mid-1950s and carrying through the 1960s, an "era of activism" saw AFSC staff and volunteers across the country advocating for prohibiting discrimination in the quest for housing.
Concord Park, just outside of Philadelphia in Pennsylvania, was one of the first attempts at privately developed interracial housing. Morris Milgram, a real estate businessman with a passion for social activism, overcame many barriers in order to establish the community in 1954.
Concord Park proved skeptics wrong. The community quietly showed that whites and blacks could live together without strife, rapid racial turnover, or a precipitous decline in property values.
We were early residents of the community who received a $700 grant from the Ford Foundation's Fund for the Republic to study Concord Park. We wrote in our report at the time, "for many persons…the concept of a new community which is voluntarily inhabited by both Negros and whites may be difficult to grasp." George and I went on to study other interracial developments and to publish a study that is still cited today.
Both in Pennsylvania and later in New York and Washington DC, the work that we did with AFSC provided a base for our future careers. After Concord Park, we worked for the New York State Commission Against Discrimination doing work to investigate housing discrimination – we crossed the state collecting stories about professionals hired as a result of the state's fair employment law, but who could not find housing. This work lent support to the first ever state fair housing law.
Looking back, did we make a difference? It is hard to say, but I am pleased that we did what some people considered risky and tried to do what we felt was right.
More From AFSC's Century Of Action