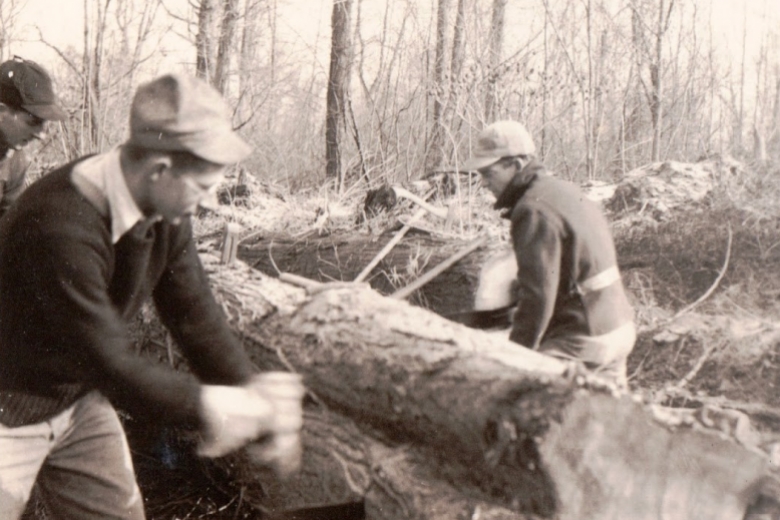 Written by Alan Crosman
CPS Camp 52
World War II required many Quaker conscientious objectors to do alternative service instead of military service. Hurford P Crosman was one of those who served in projects sponsored by the AFSC. Drafted away from his studies at Guilford College in August, 1943, he first was assigned to a forestry project, CPS Camp # 52, in Powellsville, MD.
While sponsored by the AFSC, most CO's had to find financial support for their projects from their family and meeting. Besides the manual labor of the forestry activity, the men assigned to the camps kept busy with a variety of other activities.
One of Hurford Crosman's projects was to work under the guidance of Palmer Sharpless, a Westtown graduate who was to become the industrial arts teacher at George School, on a pocket chess set, inlaid squares on a small box which held hand carved pieces.
There were also evening speakers and self-initiated music to pass the time when not working.
In May, 1944 Hurford Crosman was transferred to Camp 94, a land conservation project in Trenton, ND. In order to save the AFSC the transportation costs of the transfer, he and another transferee hitchhiked to North Dakota. His memoir of that journey, "Thumb How", is still treasured by his family.
He tells of a large number of short rides – including with farmers, salesmen, truck drivers, and wounded soldiers, among others, and in a variety of unreliable cars and trucks. Because their formal transfer orders had not reached them before they started their journey, there were also a couple of uncomfortable encounters with law enforcement, trying to explain why two healthy young men of military age were trying to hitchhike across the country.
They had both friendly and hostile conversations with those providing them rides, about who they were, what they were doing and why they were traveling. They rode "shanks mare" for several sections of the trip and often slept in the open, some good weather and some rain and snow. One long stretch in a moving van involved helping the driver unload furniture at the end of the ride.
The project in Trenton, ND involved learning to drive heavy earth moving equipment. The project was to create river levees for flood control purposes. They worked long hours, day in and day out, although work did stop for weather when the temperatures dropped to 10 degrees below zero because the equipment did not function at that temperature. Hurford P. Crosman was formally discharged from his CPS assignment in June, 1946.
More From AFSC's Century Of Action