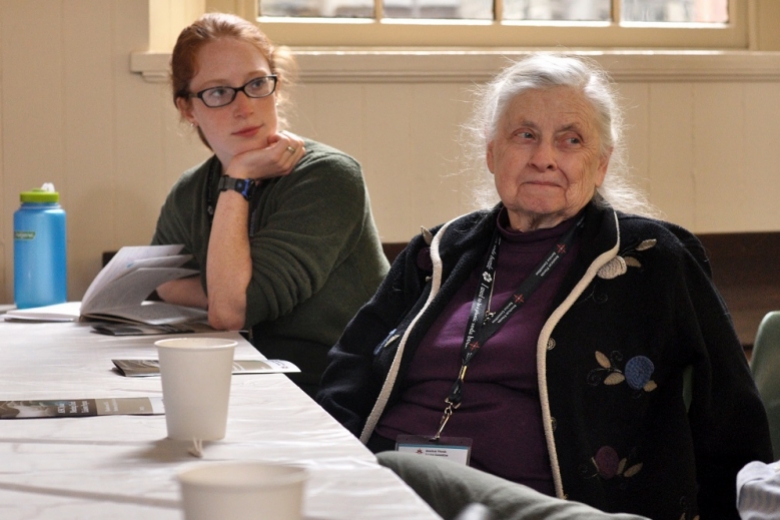 I have been inspired by the American Friends Service Committee since 1954 when I joined my first committee in Greensboro, North Carolina. Through the years I have been a volunteer, a staff member, a committee member and so much more. AFSC captured my heart.
But I was involved in the civil rights movement before AFSC. I went to Seminary at Duke Divinity School and spent two years working in a Negro church – no one else would have me because I was a woman. That work led to my involvement with the NAACP where I eventually became the first white state youth president after the two men ahead of me were drafted into military service.
I knew at the time that AFSC was helping to desegregate schools and bring students together across racial lines but my first job with AFSC was setting up work camps. Eventually my work with the Service Committee brought me to Dayton, Ohio where I met my husband Ted.
We later moved to New Jersey and I did volunteer work with AFSC where I was active with the community relations group doing a lot of anti-racism work. I remember staff members struggling with the black power movement and some of them though the movement was reverse racism. I still remember how passionately I argued against that sentiment.
We moved to Baltimore when Ted became the first Director for AFSC's new regional office. We were plunged into racial justice work once more including involvement in the Poor People's Campaign.
Organized by the Southern Christian Leadership Conference (SCLC) and led by the Rev. Martin Luther King Jr., the Poor People's Campaign addressed the issues of economic justice and housing for the poor in the United States. My husband Ted was one of two SCLC representatives to the campaign.
As AFSC and other organizers strategized, Martin Luther King Jr. was assassinated on April 4, 1968. Baltimore rioted and burned. Ted went to the AFSC office and stayed for three nights where he got into negotiations with Governor Mandel. Mandel kept asking Ted, "why don't you and other black leaders stop this?" Mandel did not understand that the frustration that was erupting was not something any one person of influence could stop.
We decided to continue the Poor People's Campaign in King's honor. I still remember my son, eight years old at the time, asking if we were poor. My reply, "we are not poor, but we are not rich." I reminded him of a recent visit to "Resurrection City" – the shantytown set up by poor people of all races who were truly in poverty. Those were the people who motivated me to work for justice and the right for every family to have enough.
The reason I first came to AFSC is the reason I still stay involved today. The breadth of work covers everything that I care about and the people I have met have truly inspired me. I found at some point that I began to think of AFSC as family – a family dedicated to eliminating poverty, ending racism, and creating peace.
More From AFSC's Century Of Action