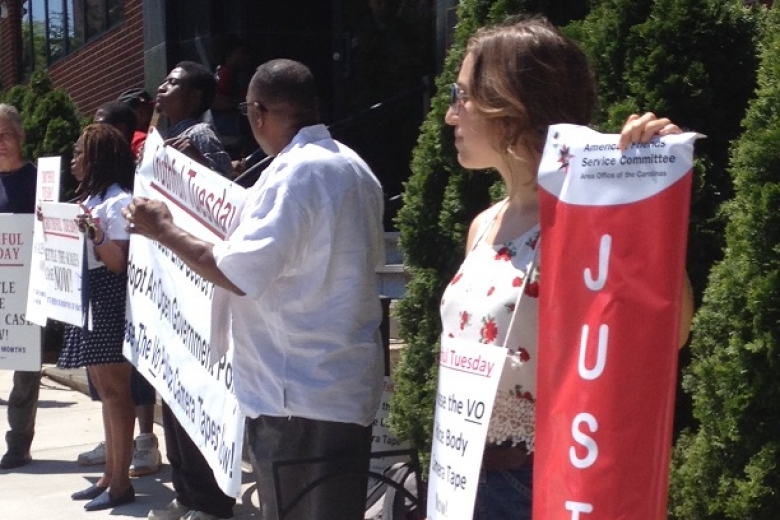 It was my second time attending a city council meeting in Greensboro. As an intern in the Peace and Economic Justice taskforce, I was representing AFSC with my supervisor and coworker. I had never seen the council chambers this crowded. We were here to address the recent passing of House Bill 2, also known as Hate Bill 2, which requires that all people use the bathroom that coordinates with the sex they were assigned at birth.
Addressing HB2 was placed at the very end of the council's agenda. When finally the time arose for people to deliver testimonies, many individuals, mainly LGBTQ people of color, spoke on how this bill would jeopardize their privacy, their safety, and, ultimately, their lives. They spoke about how there have been nearly no recorded "attacks" by transgender people in bathrooms, and that transgender people are much more likely to be attacked and killed than to be attackers or killers. Indeed, more transgender people have been murdered in 2015 than in any other previous year.
After each testimony, cheering and applause filled the room, though the council and HB2 supporters attempted to quiet the noise. Security guards even forcefully escorted one brave woman out the door. Many of us silently held signs advocating to repeal HB2, and I was one of them. During one particularly moving testimony, I let out a shout of encouragement, after which a gentleman behind me leaned forward and whispered, "Shut up." The tension of the room was turned way, way up.
Had I not been an intern with AFSC, I likely would not have been at the city council meeting. I would not have seen how council members reacted to the courageous testimonies of citizens concerned for their lives and families. I would not have known what it looks like when those in power use the rhetoric of "the safety of women and children" to marginalize the LGBTQ community. As a woman, I felt it was my duty to stand up to those in power and firmly declare: "You will not use my safety to hurt others. I refuse to be your political pawn. I do not need saving."
More From AFSC's Century Of Action