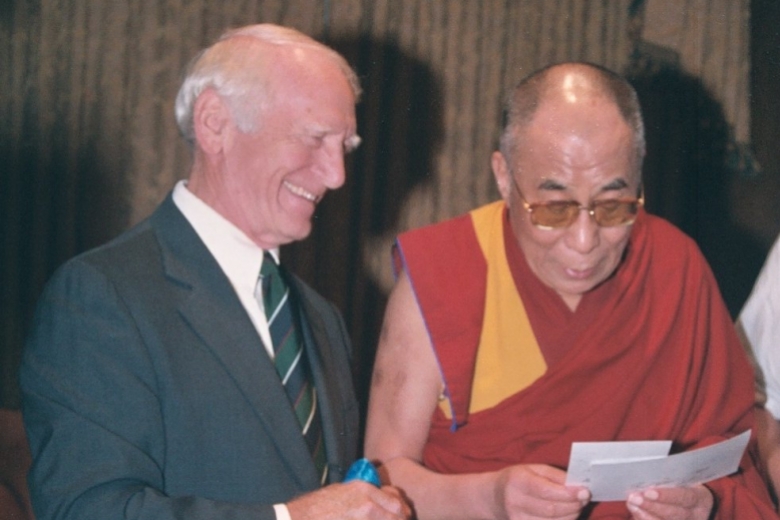 I was a Quaker from Plainfield, Indiana in my final at Yale Divinity School in 1959 planning on a career in higher education when the AFSC asked if I would like to be considered for a two year appointment as Assistant Director of the Quaker Centre in Delhi, India, co-sponsored by the British Friends Service Council.
The Quaker Centre had an active program as a safe haven for meetings for personnel from various countries and embassies and wished to expand its programs with Indian and international students at the nearby University of Delhi.
As a student of comparative religion eager to see Western culture and Christianity from an "Eastern perspective," I accepted immediately and began my term in June, 1960. It was a life-changing decision.
British Quakers (and Quakers in general) were held in high esteem in newly independent India, largely because of their respect of all peoples and religions, their history of seeking non-violent solutions to conflicts, and their support of Mahatma Ghandi in his "Quit India" movement for independence from the British.
My two years in India were punctuated by having my Saturday afternoon seminars at the Quaker Centre for 50 students addressed by Prime Minister Nehru, the President of India and various cabinet members and ambassadors -- and having my student vacation periods spent conducting work camps in villages for elite students to do the unthinkable in India, provide manual labor to help remote villages repair roads and schools.
The work camps prompted me to try to conduct one to repair the schools for the children of the recently arrived Tibetan refugees in Mussouri and Dharamsala in North India. We finally got permission from the Indian government to do so -- I think because we were Quakers. It was at the end of the second of these two-week work camps that His Holiness the 14th Dalai Lama of Tibet invited me for a private audience to thank us for our assistance. He had become a refugee rather recently. We were about the same age, 27, and got along well with lots of humor and laughs. The DL has a great sense of humor and a wonderful belly laugh. Fifty years later, it was pleasure to get a phone call and be asked to help sponsor the Dalai Lama's visit to Philadelphia after which Ann and I joined two or three other sponsors for another private audience. I showed him the photos of the work camps in 1960-61 and he pointed to some of the girls and guffawed, saying "This one is now a grandmother -- and this one also." Then squinting at a much younger Norval Reece in on old felt hat, he said "Yes, I can see that is you also" -- and laughed his big belly laugh.
The Dalai Lama gave me s prayer scarf, we four Quakers from Newtown Friends Meeting gave him a copy of Edward Hicks Peaceable Kingdom painting. I said we are all part of the peaceable kingdom and I considered myself to be a little bit Tibetan Buddhist and considered him to be a little bit Quaker. He laughed again and said "Yes." I was told later he made sure the Peaceable Kingdom traveled with him.
More From AFSC's Century Of Action