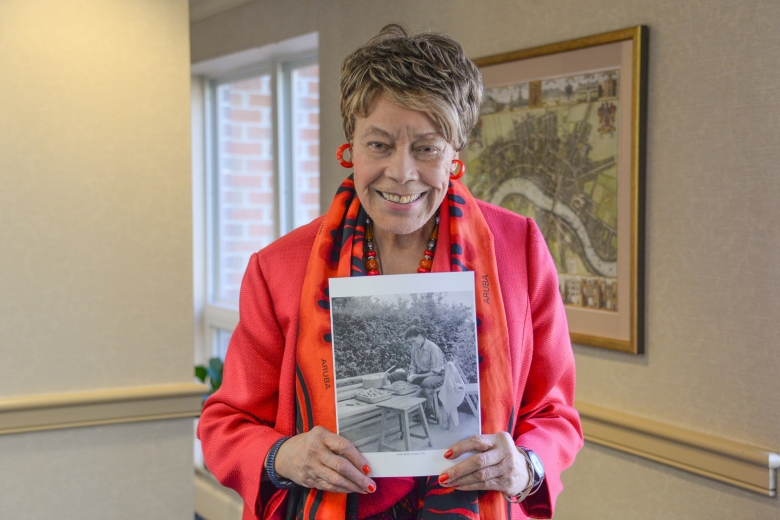 It was during my time at Hampton Institute (Hampton University) that I first heard about the American Friends Service Committee (AFSC). Hampton was the school of Booker T. Washington and many other former slaves. During my senior year, I had a sociology professor, Walter Chivers, who caught my attention teaching about Jim Crow laws and later helped me get my first job with AFSC. He believed I needed some real life experiences before I pursued a career as a social worker. I am so grateful for both his prompting, and also the experiences I had with AFSC.
I volunteered first at Clinton Farms Reformatory in New Jersey through the AFSC Institutional Service Unit (ISU) program. Clinton Farms was one of the first U.S. prisons for women confinement. Previously, women committing crimes spent their time in a contractual arrangement in a local jail. However, under superintendent Edna Mahan, Clinton Farms was the prison without walls. This institution adopted progressive policies that focus on rehabilitation and seeing each woman as an individual, instead of concentrating on the punishment. Philosophies that AFSC continues to agree with today. I arrived at Clinton naïve; the job gave me much broader awareness about life, just as my professor Walter Chivers had warned me earlier. Treating others with dignity and respect is always the first step towards healing. I was so grateful to my AFSC supervisor, Dorothy Craig, who made sure we had a full experience and who also encouraged me during the end of my year to apply for my second experience with the AFSC.
In the years after World War II, AFSC established a program called Quaker International Voluntary Service (QIVS). This later became the Voluntary International Service Assignment, better known as VISA. In 1948 I went to Europe, with many other idealists, on a reconverted warship named The Marine Jupiter. Working with an internationally diverse group, my first assignment was in Grenoble, France where a group from 22 nations worked to rebuild communities destroyed by the recent war. Other assignments were in France and Switzerland where we continued to work rebuilding, and carrying out the AFSC's mission.
For many years afterwards, I discussed my AFSC experience with many people including John F. Kennedy. Before Kennedy had won his presidency, I found myself sitting across from him on an early morning flight to Cleveland. After a brief conversation with him, he acknowledged me respectfully because I knew his "Aunt Nina", (Nina Concella) who was the warden for the Federal Reformatory for Women, at Alderson, WV, and his mother's childhood friend.
In discussing my experiences, including the two volunteer projects with the AFSC, I told him how much our country could learn from other nations about peace and justice for all. Lastly, my words were to Senator Kennedy; "…when you get to be president, you need to stop jailing conscientious objectors, (i.e. Muhammad Ali) and put them to work in alternate non-military programs."
Kennedy was the president that ultimately started the Peace Corps and he used the AFSC-QIVS program as one of the models but, it was made clear from the beginning of the Peace Corps that it would not be an alternative to military service.
I might not have been the only one to encourage President Kennedy to use the AFSC work as a model for the Peace Corps, but I may have been the first!
I went on to pursue degrees in both law and divinity, and I did indeed work as social worker. All of these disciplines came together when I did my work to bring the government into compliance with the Civil Rights Act. I co-founded and organized Federal Employed Women, (FEW) an organization that works to end gender discrimination in the public sector jobs. My early experience with the AFSC showed me the importance of bringing together the individual, with the community, from a global society influence.
Every day I try to do something for peace and justice, it is like breathing to me. That is my payment for the space I occupy here on earth. I appreciate the opportunities I had early in life with the AFSC, it is the core of who I am; Turning words into deeds for justice, peace, and equality, for all of humankind.
More From AFSC's Century Of Action