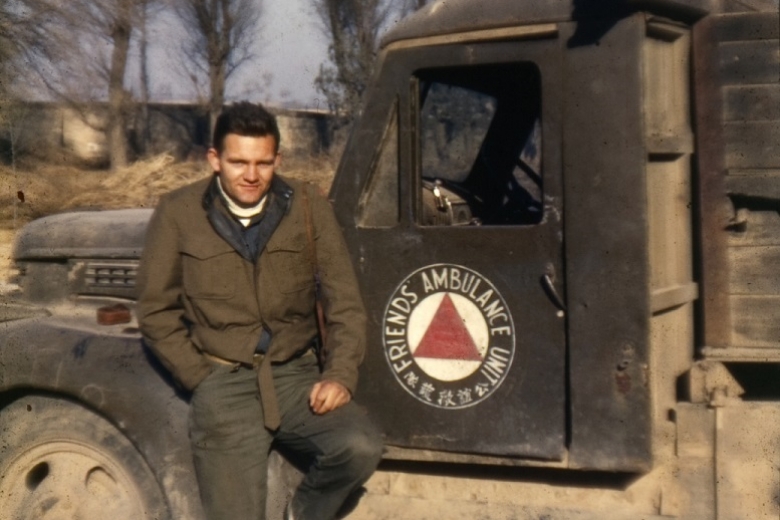 (Submitted by Cathy Miles Grant, daughter of Friends Ambulance Unit volunteer Frank Miles)
The following are excerpts from a September 5, 1947 letter that Friends Ambulance Unit volunteer Frank Miles wrote home from a village in Shanxi Province, China, his first opportunity in six months to get word out to his family. On March 9, 1947 the FAU's "Medical Team 19", along with all medical staff and patients of the International Peace Hospital with which they were working, had evacuated from Yan'an (the seat of government for the whole Communist-held territory in China) in the face of a military advance by a Kuomintang (Chinese Nationalist) army, and traveled for many months by foot through the rugged hills and remote villages of northern China:
__________________________________________
"To be on the move has continued to be our lot. Our total moves now add up to 13 and at this moment we are on the other side of the Yellow River. In adding up distances travelled the other night, we decided that as a group we have walked about 400 miles. My personal travels, besides, have been at least 150 miles beyond this group mark. However one and all have made the journeys with good spirit and health, on the whole, wearing a few blisters to be sure, but nothing serious. And if at times we have found life in the villages to lack a little in variety, our travels have more than made up for this deficiency.
…
"We have continued to be without any further contact with the outside world, with one small exception. A few FSU Newsletters of the month of April arrived not long ago after having made a slow trip from Shanghai of nearly 4 months by many and devious routes. It would be great to have a little news of what's going on at home, but it's just not in the cards. When I realize that many of my [Chinese] friends here have not been able to make any contact with their families for several years - and have no hope of any change in the situation for some time, I realize that I'm a very fortunate bloke indeed. Our sacrifices are very small when placed along side those of our fellow-workers.
…
"Fighting is going on with no abatement, with a great deal of the fuel added to the flames in the name of the American people… One finds it most difficult to arrive at any clear understanding of just what is going on in the world outside, when it is quite evident that most reports are distorted. To what degree is our news twisted? What moves are being made which we don't hear about? … The one thing which is evident is that fear of America is being stock-piled here, just as fear of Russia is in the States.
...
"There, again, is emphasized to me the importance of a group like ours working in this troubled zone. Small as our influence may be, it does let the people with whom we come in contact know that there are people in other nations, even in America, who are concerned with their welfare and who would like to be their friends, as they would be friends of all mankind, that in spite of political differences we can work together in close cooperation and build lasting friendships."
______________________________
Fast-forward to April 5, 2016: Visiting the exhibition "Commemoration of Our Shared Memory -- Eternal Friendship: The Picture Exhibition of Friends Ambulance Unit" at the Eighth Route Army Museum in Xi'an, China:
Lasting friendships continue to this day, as referenced by the words spoken by a Chinese museum dignitary on the occasion of a ceremony honoring the gift of digitized photos from Douglas Clifford (New Zealand physician with Medical Team 19 and subsequently Chief Medical Officer for the Friends Service Unit) to the Eighth Route Army Museum in Xi'an, delivered by Frank Miles' daughter Cathy Miles Grant (USA) in the company of Frank's daughter-in-law Shelley Stickel Miles (Canada), the daughter of Chinese FAU worker Wang Yunying (China), and researcher from the University of Guelph Susan Armstrong-Reid (Canada):
"I'm thrilled to be here. In this room, friends from Canada, the US and China have gotten together to do meaningful things. We are the descendants of the FAU people. Yesterday was the Qing Ming festival, an important traditional festival in which we commemorate our ancestors. Today is another important day in which we commemorate international humanitarian workers and their spirit. The people of FAU came to China voluntarily, to help the people in need and in pain. … In 2014, the 8th Route Army Museum, together with IICC-X, and Mr. David Brough, the contact person of the FAU descendants, organized an exhibition called "Our Common Memories" of the FAU China Convoy. It showed the humanitarian works of these people. During the exhibition, we have met Mr. Li Gang, son of Li Xingpei who worked in Yan'an with MT19, and he has brought us photos and videos of the revisits of MT19 friends in 1978. Thanks to the support by government and people, our exhibition is still updating. This donation will greatly enrich the current presentation, and help us to understand the spirit behind the relics and documents."
-- Feng Jian, Deputy Director of the International Conservation Center in Xi'an and
Director of the Xi'an Institute of Archaeology
_____________________
Frank Miles was born into a Quaker family in 1923. His father had volunteered in France with the AFSC as a conscientious objector during World War I. Like his two brothers Ward and Rodney Miles, Frank served with the Civilian Public Service (CPS) as conscientious objector during World War II.
In 1946, after his release from the CPS, Frank volunteered to serve in China as a medical mechanic with the Friends Ambulance Unit (FAU), through the AFSC. Throughout 1946 he used his engineering skills to assist in rebuilding Zhengzhou, Weiwei, and Anyang hospitals in the province of Henan, which was then in Nationalist hands. At the beginning of March 1947 he flew to Yan'an to work with Medical Team 19, which was attached to the First International Peace Hospital in Communist-held territory. He remained with MT19 until March 1948, when he agreed to escort FAU nurse Margaret Stanley on the first leg of her journey home to America. Led by a Communist guide, they travelled for 10 weeks on foot, by cart, and by mule across Shanxi to Shijiachuang in Hebei Province and then on to Tianjin. Frank was then assigned to the village rehabilitation project in Zhongmu in Henan to run the machine shop, garage, and a small fleet of trucks used to support the medical programs. During his time there Zhongmu changed hands between the Nationalists and Communists several times. In August 1948 Frank was part of the Friends Service Unit (new title for the FAU) delegation that drove through the fighting in northern Henan for negotiations with Dong Biwu in Shijiazhuang, in Hebei Province. In October 1948 Frank was elected Chairperson for the FSU in China and relocated to FSU headquarters in Shanghai. By late 1949 he had decided to return home, and after 6 months delay caused by permit restrictions and the naval blockade of Shanghai, returned to America in April 1950.
Throughout his life Frank remained an active member of the Society of Friends and in his retirement from an international career with Firestone served for six years as General Secretary/Treasurer for Canadian Yearly Meeting, the national body of Canadian Friends. Frank Miles died in December 2013 at the age of 90.
More From AFSC's Century Of Action