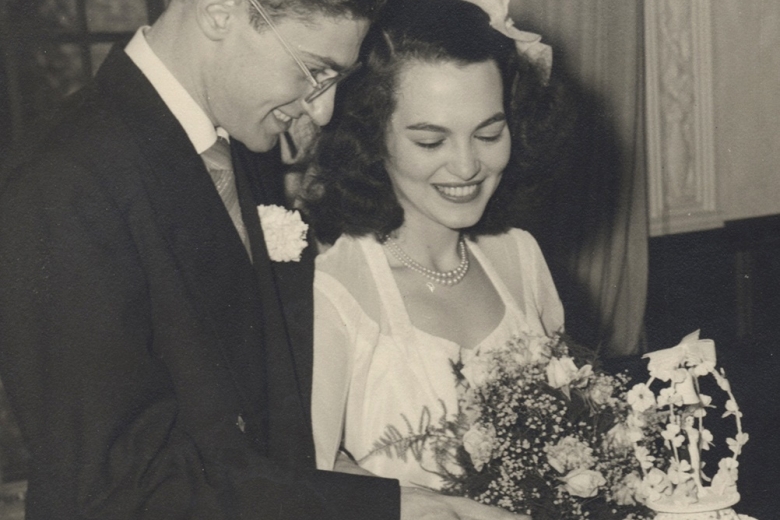 In 1937 my parents determined our Jewish family must leave Germany. My father was a lawyer, and my mother had been the first woman lawyer admitted to practice before the Supreme Court in Berlin. They applied to travel to the USA, however only my mother, sister, and me were granted visas. Though an Iron Cross-winning veteran of the German army, my father was placed on a long waiting list because he was born in Posen, which became part of Poland rather than Germany after World War I. In November of 1938, my father was forced to go into hiding. At the time, I was 9 and my sister was 11. My mother determined to get us all out of Germany and purchased tickets to Thailand, a country not requiring a visa. This led the German authorities in January 1939 to grant permission for us to leave the country (Exit Permit), allowing my father to come out of hiding. We never went to Thailand: our tickets included a stopover in London, where we disembarked and eventually made our way to the United States.
Our family settled in New York City, where my father became a CPA and my mother worked for Selfhelp of Jews from Central Europe. It was through her work obtaining supplies for Jewish families in France and Germany we were introduced to Quakers and the American Friends Service Committee, as they were willing and able to get access to the "detention" camps. Quakers suggested that my sister and I attend Berea College in Kentucky. At Berea I met Wanda, a Methodist from a poor Appalachian home. We held our wedding in Berea's chapel on June 18, 1950. The wedding cost $500 (all borrowed) but brought over 62 years of priceless love.
I continue to support AFSC, as I am grateful for AFSC's work providing food and supplies to other Jewish families during the war. I am grateful for the opportunities that came from attending Berea College. Wanda and I hope we leave a legacy tied to serving and giving people opportunities. We are proud to honor the work and legacy of the American Friends Service Committee, "paying forward" what my sister and I, along with so many other Jewish victims, received from AFSC some 70 years ago.
More From AFSC's Century Of Action