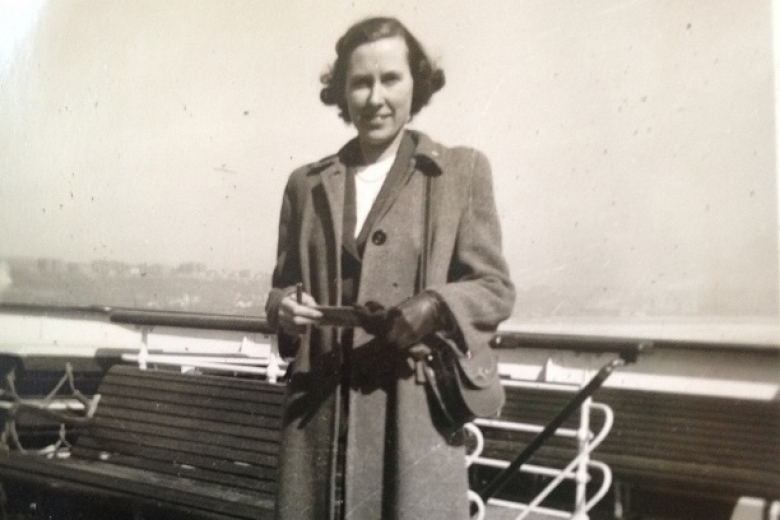 AFSC service in Finland and Germany 1948 – 1951
Memories by Lu (Lucretia Wood) Evans (written by Peter Lane)
Lu began hearing about chances to serve with AFSC in 1946 when some people came to St. Louis, where her family was living at the time. She was a 26-year old Quaker and hoped to help improve the lives of Northern Europeans as WW II was ending.
She signed up in March of 1946 and began in the Philadelphia office, in the company of Clarence Pickett, Henry Cadbury, Douglas Steere, and other luminaries at that time.
Departure to Europe, in March of 1948, was aboard the ship, Stockholm, on her maiden voyage. Crossing of the North Atlantic was rough. Landing in Gothenburg, the group of 8 young people was soon in the city of Stockholm where they met other Friends, got used to a little of the language and culture, but were soon on their way to Finland, and were met by Finnish Friends. Lu worked in an office in Helsinki, traveled by train northward stopping in towns that the retreating German armies had left in poor condition. Lu remembers helping families by distributing clothing, food, and support as they tried to return to something like normal life.
- Dealing with permafrost as they rebuilt stoves in family homes,
- Drinking "imitation" coffee which one mustn't refuse even if it tasted awful,
- they had ice cream which was good,
- bathing was done in the sauna, quick rinse in the river,
These are a few of the highlights of her time in northern Finland.
By September of 1948, Lu was on the way to Darmstadt, Germany, via Gdansk, Poland, where she helped at a work camp project rebuilding houses. That journey took her into France, to Woodbrooke in England, and on to Freiburg in Germany.
She describes her work as mostly "administrative" meaning that she was helping young people whose lives had been disrupted by the war.
In a quiet time, she and a friend returned to Finland and traveled by train up into the Arctic Circle, Lapland, … land of the midnight sun … where Sweden, Norway, and Finland can all be visited on a reasonably short walk.
Lu stayed on in Germany, until August 1951 and then returned to Philly where she worked at the International Center Desk until 1953. Shortly after that life changed for her and a young doctor named Bill Evans … they married and moved on which opens another story.
More From AFSC's Century Of Action